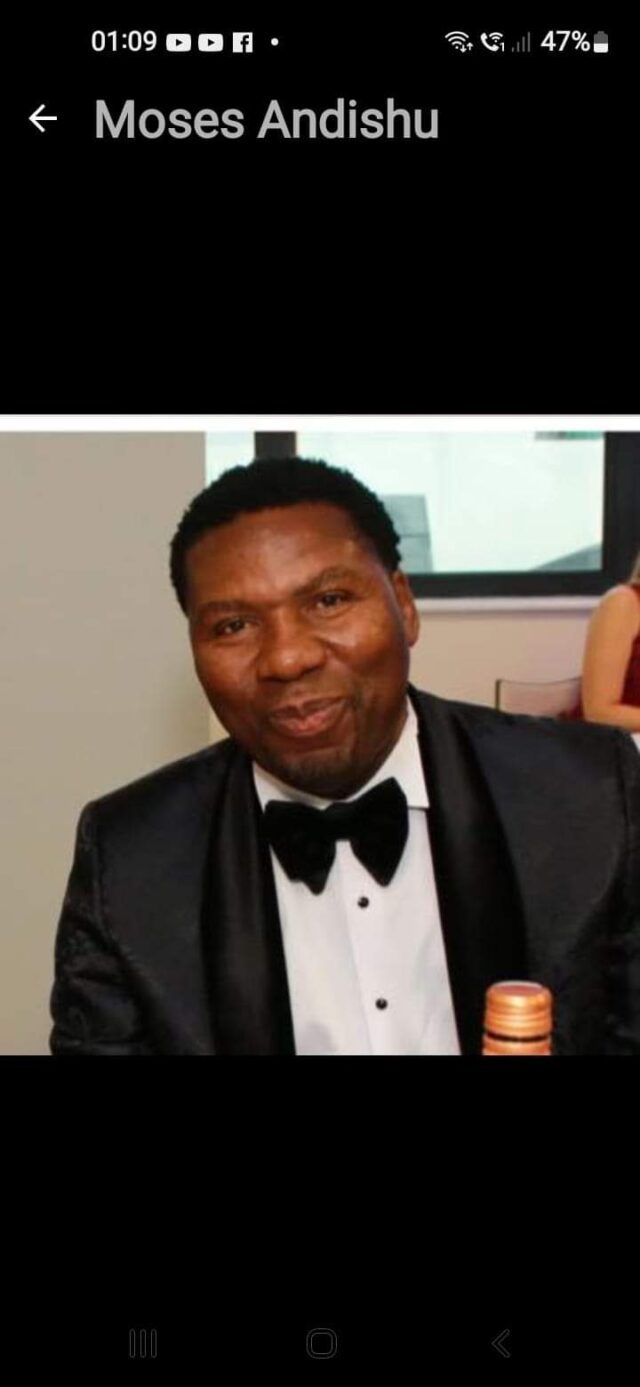 By Abdulgafar Oladimeji
"To keep the heart unwrinkled, to be hopeful, kindly, cheerful, reverent — that is to triumph over old age." — Thomas Bailey Aldrich.
The afore stated prominent birthday quote best dress in glory the year added to the age of Moses Ted Andishu.
The choice of the headline cast for this short eulogy is explicit and targeted at paying tribute to the son of late chief Samson Andishu, father, husband, brother uncle, heavenly furnaced refine and subconscious enlightened soul. I simply herein referred to as my birthday boy.
The Man is Moses Ted Andishu, The Man," Waste no more time arguing about what a good man should be. …
He calls the shot at Freivan Support Services .UK the magical wand at work at the firm tell s the story that there is an enigma of positive vibration, who is in charge, a testimony of The Man .
The Myth, a myth is a way of making sense in a senseless world, Top Man as he is fondly called by his admirers , had his background cut, sized and modeled from the once unknown school of life to a super hero amongst his peers,
The reality is that though born into prince hood, coming thus far must have gulped tenacity, temerity, doggedness, consciousness, focus.
The reality that could not further at this time in his life be easily admitted by his admirers is the pains of life ,back stabbing, subconscious condemnations and vibrations in contrasts to his present day existential realities in the life of Moses Ted Andishu,  Love him , hate him, he lives his life growing through the pains of barb and unfriendly shrubs of realities of life to ascend his present Iroko status.
The reality of birth day boy, Mr Andishu, "it is the privilege of the gods to want nothing, and of godlike men to want little.
Siblings, nephews, in- laws, friends, professional partners of Mr Andishu last week, took to their social media handles to rain encomiums , benedictions and supplications as Moses turn plus one.
Leading the fore of the birth day missive, that went viral ,is Jospeh Andishu who said "today, I join heaven to celebrate my father, my role model, my mentor, my boss.
"you are a rare gem, may the almighty God continue to protect and guide you."
Amah Ushang got enlisted on the queue of well wishers saying "may God bless your new age make it a fruitful and fulfilled one. "Jummai Ibrahim said  happy birthday to you big bros, may God's blessings always be with you.
Angela Samson Andishu Osoro stated thus ", happy birthday brother, wishing you all the best, many more fruitful years , with wisdom and understanding .
She further prayed " I wish you long life, good health, prosperity and all you wish yourself.
Ballat Ohize Andishu could not be left out of the birthday party, she said " celebrating your birthday is just like celebrating a descending angel from heaven.
Further saying " you have the best heart in the world.
Also Ally Munir celebrating the security business czar and health services guru said "happy birthday Uncle Top Man, may the good lord continue to bless all your days.
Prior to the birthday showers of prayers and calls for divine intercessions for Mr Andishu, Rotary Club of Port Harcourt City Valley conferred the Honour of Distinguished Humanitarian Service award , on the businessman cum philanthropist.
Moses added another pre birthday feather to his hat, when he was also crowned as the Most Outstanding Community Activist 2023, during the Nigeria week , London UK 2023.
The man again, Moses Ted Andishu, is a training, recruitment and security consultant based in the UK.
An international award winning entrepreneur (Be Mogul) and philanthropist, he is the CEO of FreIvan support services limited and founder of the Moses Andishu foundation.
He is a master's degree holder in Strategic business management from University of Plymouth, UK and has a wealth of experience in the training and recruitment of personnel in construction, health, socials care, rail and security services, spanning across Europe and Africa particularly Nigeria.
A firm believer in charity, Moses Andishu is dedicated to active service to humanity through his various poverty alleviation/ and empowerment initiatives.
I draw the curtain with the words of the philosopher Plato , who was once quoted to have said "Old age: A great sense of calm and freedom. ..
Tom Stoppard also said : "Age is a high price to pay for maturity."
Happy Birth Day Top Man, Go forth and fear no foe.