By Abubakar Abdullahi
Suspected armed robbers were believed to have set ablaze Gombe Old Market midweek amid fear that property worth over N70 million was lost.
Eyewitness told Justice Watch News correspondent in Gombe that the tragedy occurred in the early hours of Wednesday.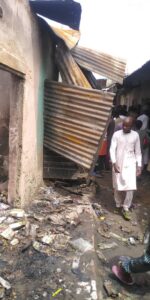 He said the inferno started from Tailoring line of the market, engulfing around 20 shops, in addition with the properties lost worths million of Naira.
Read Also: Hoodlums attack police station, kill officer, civilian in Oyo
He also said during the inferno, properties worth millions of naira were stolen from the affected shops.
Narrating his ordeal, one of the affected shop owner, Aminu Abdulrahman, said he received a distress phone call by 1am informing him about the inferno.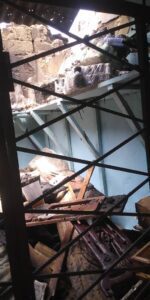 He explained that he lost ten sewing machines and various valuable items, with an estimated worth of 2.5 million naira to the tragedy.
Read Also: Fire destroys property worth N23.3bn in 3 months
Sani Idris, another shop owner, described the incident with deep sadness.
According to him, he received a phone call around 1am, alerting him the act of arson committed by the suspected robbers.
He further disclosed that he lost five sewing, weavings machines, and other materials, with an estimated value of 800,000 naira.
He appealed to the government and philanthropists to extend helping hand to the affected shop owners as a means to cushion the affect of the lost.
In his response to the devastating incident, Abu Safwan Muhammad Tukur, Chairman of the Gombe State Tailoring Association Old Market Branch, expressed shock and grief.
He emphasized that their members had lost everything, including sewing machines and valuable merchandise, causing estimated losses that may exceed 70 million naira.
Read Also: Fire razes Zenith Bank's ATMs in Kano
He urged the Gombe State Emergency Management Agency to swiftly intervene and provide assistance to the affected shop owners.
When contacted, Gombe State Director of the State Emergency Management Agency, Malam Muhammad Garba, he assured the public that the government is making every effort to help those affected.
He maintained that the agency is working to provide relief materials that will alleviate the hardship being faced by the affected shop owners.
Read Also: Flood Renders 500 Homeless, Destroys 100 Houses in Gombe
Justice Watch News Correspondent in Gombe reports that the fire outbreak in Market has left the entire community in shock, and the loss of property and livelihoods has been deeply felt.