The Kano State government will set up admissions drive committee to ensure state citizens fill in their quota in all tertiary Institutions across Nigeria.
State Commissioner Ministry for higher education Dr. Yusuf Ibrahim Kofarmata, disclosed this during the interactive session with relevant stakeholders at Kano College of Education and Preliminary Studies (KACEPS) in continuation of familiarization visit to Parastatals under his Ministry.
Read Also: Tenure Expiration: KNSG Dissolves NAKSS Exco, Senate With Immediate Effect .. Appoints Planning Ctte
Dr. Kofarmata, said establishing the committee would reduce over dependant of the students on institutions that are within the state and it will also provide the opportunity to the teeming youth to have admission to in various Institutions within and outside the country.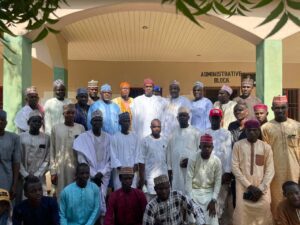 Turning to the college, the Honorable Commissioner reaffirmed the present administrations commitment of governor Abba Kabir Yusuf to address the immediate challenges that affecting the College.
He said "the essence of the visit is an eye-opener for me as leader to assess the situation on the ground in all the Institutions to set ball rolling in line with Gov Abba Yusuf educational development plan."
The commissioner warned that "Issues of examination malpractice, delayed in releasing results and students harassment would be no long tolerated in the Institutions",
He commeded the Collage Management for introducing various courses and reforming the oldest institute to fit into the modern times, urging them to sustain the tempo.
The Commissioner then charged them to reconstitute admission and procurement committee's and submit report to the ministry within two weeks.
Earlier, the Provost of the Collage Dr. Sunusi Yukub Ahmad, said the CARS Kano was established around 1972 and produced many prominent personalities who excelled in various spare of society.
According to the Provost, when he assumed office the state of affairs of the College was unsatisfactory.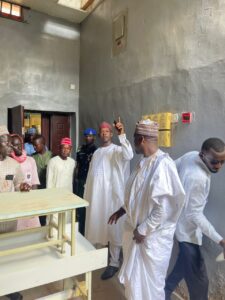 "the College lacked a clear mission, vision, and philosophy, while its operations were governed by an outdated edict of 1987. The provost further revealed.
He said Administrative shortcomings were evident,
lacking strategic plans, master plans, and academic briefs essential for a well-established tertiary institution.
Dr. Ahmad said the learning environment was far from conducive, characterised by overcrowded
classrooms, inadequate infrastructure, and insufficient teaching materials",
Read Also: KNSG urges residents of Nassarawa GRA to trim down grasses
He said the management has taken serious and immediate response in addressing these issues during my tenure and initiated several changes.
The College name was updated to "Kano State College of Education and Preliminary Studies" to secure the National Commission for Colleges of Education (NCCE) accreditation for NCE 1 and NCE 2 courses.
A statement by Sunusi A. K/Naisa Chief Information Officer, MHE Kano, noted that the visit was concluded with inspection of Collage's facilities at Kunchi Campus and City campus along Airport road.