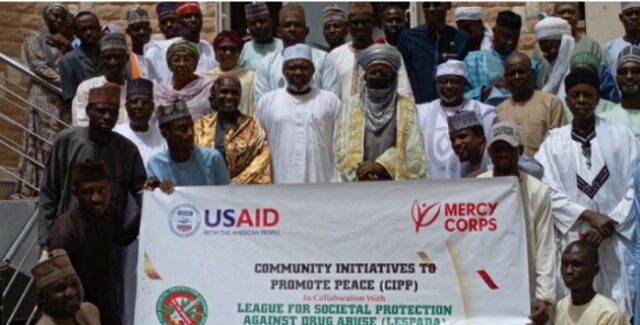 By Abubakar Adamu
Community Initiatives to Promote Peace (CIPP), League for Societal Protection Against Drug Abuse (LESPADA), and other key stakeholders on Thursday held a one-day stakeholders dialogue in Kano, with the aim of finding a lasting solution to drug abuse.
The dialogue focused on discussing the effects of substance abuse and the importance of collaboration among stakeholders to address this menace.
Read Also: Mercy Corps, LESPADA Collaborate for Stakeholder Engagement on Drug Abuse in Kano
During the event, Amb. Maryam Hassan, the Executive Director of LESPADA, emphasized the need for cooperation among various stakeholders to combat drug abuse.
She highlighted the importance of creating a sanitized atmosphere to ensure a clean and drug-free society.
Halima Kassim Usman, Program Officer of Mercy Corps (CIPP), emphasized the organization's structure and initiatives aimed at observing and preventing drug abuse within the community.
Read Also: Uphold Doctrine Of Arbitration, Kano Emir Tasks Bussiness Moguls
These initiatives include community peace observers, women's build counsel, women's critical discussion groups, and intact base initiators and mediators.
Dr. Fatima Sani presented a paper on the impact of drug abuse among women on community conflict and peace resolution in Kano State.
She explained that drug abuse among women refers to the excessive use of illicit or prescription drugs, which can be harmful to their health, well-being, and relationships.
She further emphasized the need for increased awareness and education about the dangers of drug and substance abuse, through public awareness campaigns, school programs, and community workshops.
A presentation by NDLEA Commander, Abubakar Idris-Ahmad, highlighted the adverse effects of drug and substance abuse on community peace and conflict.
He stated that drug abuse contributes to increased crime rates, gang violence, economic instability, stigmatization, and marginalization.
He recommended raising awareness about the dangers of drug abuse through engagement with schools, community-based organizations, and mentorship programs for drug addicts.
Dr. Bashir I Muhammad, representing the Kano State Emirate Council, reiterated their commitment to fighting drug abuse.
Read Also: Enthusiasm Greets NDLEA, LESPADA Road Show In Kano
He emphasized the importance of preventing drug demands and banning illicit drugs to curb the menace.
The event included group exercises and discussions among participants to brainstorm on the next steps and develop action plans to address drug abuse in Kano.
Overall, the stakeholders dialogue highlighted the importance of collaborative efforts, awareness campaigns, education, mentorship programs, and enforcement of laws to combat drug abuse and promote peace within the society.