By Abubakar Abdullahi
The Gombe  State Committee on Farmer/Herders Conflict Prevention and Settlement of Disputes has embarked on an enlightening and advocacy mission to local Emirates and chiefdoms in an effort to promote peaceful coexistence between farmers and herders.
This initiative aims to ensure a smooth and trouble-free harvest season within the state.
Speaking at the palaces of the Emirs of Nafada, Funa Kaye, and the senior District Head of Kwami, Dr. Barnabas Malle, the State Chairman of the committee and also the Commissioner of the Ministry of Agriculture, Animal Husbandry, and Cooperative, emphasized that the ban on herders' entry into Gombe State from neighboring states remains in effect until the end of January 2024.
Read Also: 301 Artillery Regiment Commander Vows to Tackle Regional Security Challenges in Gombe
Dr. Barnabas urged for continued observance of restrictions on inter-local government movement and nighttime grazing.
He called on farmers to refrain from burning farm residue and warned that violators would face legal consequences.
He also tasked local government caretaker chairmen with blocking entry points to prevent herders from entering during the harvest period.
In a response, the Commissioner of Internal Security and Home Affairs, Alhaji Abdullahi Bello, advised both farmers and herders to cooperate with the laws, emphasizing that the committee would not hesitate to take disciplinary action against anyone found in violation.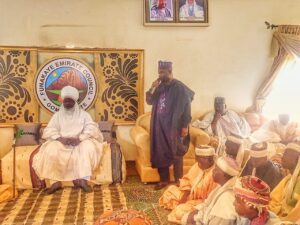 The caretaker chairman of Nafada, Funakaye, and Kwami local government councils, Alhaji Saleh Shuaibu Dandele, Alhaji Ibrahim Adamu Cheldu, and Alhaji Ibrahim Buba Makaman Dukul, expressed gratitude for the committee's visit and affirmed their proactive measures to ensure a trouble-free harvest season in their respective areas.
Representatives from the State Chairman of All Farmers Association of Nigeria (AFAN), Alhaji Modibbo Sadiq Ahmad Nafada, and the Chairman of Miyetti Allah, Alhaji Modibbo Yaya, pledged their full support and cooperation.
In a remarks, the Emir of Nafada, Alhaji Mohammad Dadum Hamza, the Emir of Funa Kaye, Alhaji Yakubu Mohammad Kwairanga, and the Senior District Head of Kwami, Alhaji Aminu Haruna Abdullahi, commended the state governor, Alhaji Mohammad Inuwa Yahaya, for forming the committee and assured their commitment to maintaining peace and stability in the state.
Throughout their visits, the committee engaged in a question-and-answer session, addressing concerns and queries from the communities they visited.