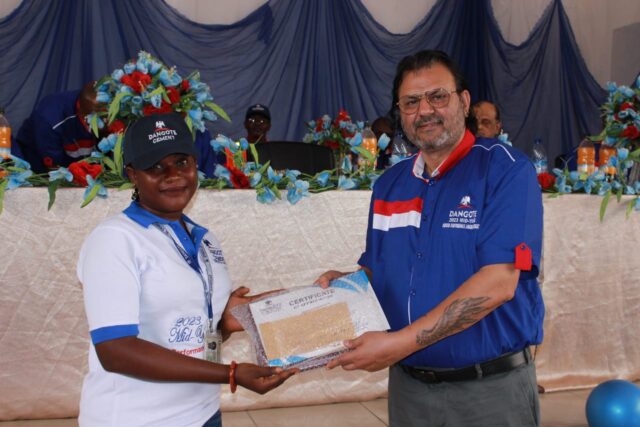 The Transport section of the Dangote Cement Plc has honoured drivers in its mid-year Retreat and Award.
Read Also: Dangote Boosting Nigeria's Foreign Earnings – Abuja Chamber
The retreat and award at its Obajana factory in Kogi State recognized committed and hardworking drivers, with a female driver emerging as the best during the period reviewed.
Speaking at the retreat, Divisional Director, Transport, Mr. Ajay Singh said the award would encourage the drivers to drive safely, adding that it enabled the company to review it operations, and reward hard work.
"Our performance as drivers directly affects the safety of ourselves, our passengers, and fellow road users. It is imperative that we constantly evaluate our own performance and seek ways to enhance our driving skills," he said.
In his speech, he said driving is not merely a mundane task; but a responsibility that requires utmost attention, focus and skill.
Read Also: Dangote skills up journalists in Northwest
According to him, "One of the most effective ways to improve our driving performance is through periodic retreats. Taking a retreat doesn't necessarily mean going on a vacation or an elaborate getaway. Instead, it means stepping back from our daily routine and allocating time to reflect on our driving habits, identify areas for improvement, and learn new techniques that can make us safer and more responsible drivers."
He said by taking the time to retreat, the drivers can refresh their minds, while allowing them to approach driving with a calmer and more composed attitude.
The event came weeks after the Dangote Articulated Truck Driving School graduated no fewer 50 Special Truck Drivers.
Read Also: Lawyer bags six months imprisonment over libelious publication against Dangote
Speaking on the sideline of the event, the school manager, Mr. Daniel Marcus Akuso, said the Transport section of the Dangote Cement has introduced different programmes to support drivers' needs of the company.