By Abubakar Abdullahi
A former Senate President, Senator Ahmad Ibrahim Lawan has displayed his unwavering dedication to delivering democratic advancements to his constituents during his visit to Wachakal Domestic Airport in Nguru Local Government area of Yobe State on August 25, 2023.
Arriving around 12:45 pm, Senator Lawan addressed an enthusiastic crowd of his supporters, where he elaborated on the government's priorities such as sector development, regional connectivity, and meeting constituents' aspirations, which led to the establishment of the airport.
Read Also: Yobe Correspondents boycott Government activities
He emphasized the airport's multifaceted significance, from bolstering security to fulfilling societal needs, and highlighted its role as a valuable asset among similar facilities nationwide.
Senator Ahmad Lawan underscored the pivotal role of the airport in the state, highlighting its contributions to both security and economic expansion.
He emphasized the airport's potential to streamline the movement of security personnel and equipment, thereby strengthening efforts against terrorism and cross-border crimes.
Additionally, he encouraged the populace to leverage the airport for transporting goods and services, capitalizing on Yobe State's abundant resources such as high-quality sesame seeds, hides, skins, and livestock, which could significantly enhance local and international trade opportunities.
Subsequent to his address at the airport, Senator Lawan's delegation proceeded to his hometown of Gashua, where he inaugurated several federal government projects within his senatorial zone.
Read Also: FAAN closes Lagos Int'l Airport for 8 Weeks
These include the Muhammadu Buhari Children's Hospital and the Federal University Gashua.
Expressing satisfaction with the ongoing projects, Senator Lawan also pinpointed areas for potential improvements within the university campus.
Comrade Bashir Nguru, the Coordinator of former Senate President Lawan, commended him as a visionary leader consistently committed to delivering the benefits of democracy to his senatorial zone.
Comrade Nguru called upon the community to offer their support through prayers, recognizing Senator Lawan's endeavors to drive developmental projects and empowerment initiatives.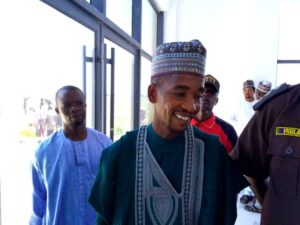 These actions, according to Comrade Nguru, exemplify the traits of an exemplary leader.
Read Also: IGP Mourns Poetic Philosopher, AIG Lawan Tanko Jimeta
Notably, numerous individuals in the region have experienced the positive outcomes of Senator Ahmad Lawan's contributions over the years, with his constructive influence continuously uplifting and shaping the community.