The Kano State Permanent Secretary Special Duty, Alhaji Sanusi Abbas has called on the public to desist from indiscriminate dumping refuse by the roadsides.
Read Also: Environmental Sanitation Exercise: 111 Defaulters Arrested in Kano
Alhaji Abbas made the call while briefing Journalists on Kano State Government's determination to make a successful evacuation of refuse within Kano Metropolis.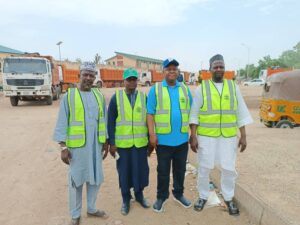 Alhaji Sanusi Abbas also said the call was imperative to prevent flooding during rainy season.
Justice Watch News similarly gathered that, Kano State Ministry of Environment headed by the Permanent Secretary of the Ministry Alh Aliyu Yakubu Garo with support from other stakeholders already swung into action as directed by H the Governor of Kano state Engr. Abba Kabir Yusuf to ensure clean and tidy environment devoid of waste.
Simirlarly,  in a statement dated 4th May, 2023 by Ismail Garba Gwammaja, Director Public Enlightenment, Kano, also a member of the Taskforce, the Permanent Secretary enjoined all and sundry to complement government concerted effort, especially during present rainy season period.
The permanent Secretary also commended the leadership qualities of Governor Kabir Yusuf for identifying with yearning and aspiration of people in the state.
He, therefore restated their readiness as a ministry to continue to support and cooperate with present administration and appeal to the residents to complement government effort to desist from indiscriminate dumping of waste on water ways and major roads so as to prevent flooding before and after rainy season.
.Proposed Membership Composition for Joint Taskforce on Refuse Evacuation in Kano Metropolis
Alh. Ahmadu Haruna Zago, Chairman, Alh. Aliyu Yakubu Garo, Permanent Secretary, Ministry for Environment, Engineer Mansur Musa Permanent Secretary Min of Works, Member, Abbas Sunusi Permanent Secretary, Special Duties Cabinet Office, Member and Engineer Abdulrazak Harun, Min. of Works and Infrastructure, Member.
Read Also: Monthly Environmental Exercise: Kano State Government Summons Rimi Market Officials
Others are İsma'il Garba Gwammaja Director Publicity, Min. of Environment, Member, Representatives of Contractors Companies
Bashari Nasidi Chairman, Central Working Committee on Self-help Groups, Sha'aya'u A Jibrin
Director Operations Min. of Environment, Hamisu Muhammad Umar Senior Assistant Secretary, Secretary  Co-Secretary respectively.