The National Human Rights Commission, Kano State Office, has confirmed the receipt of a complaint by Nigeria Railway Senior Citizen, Kano Chapter who alleged that the Kano Branch of Nigeria Railway Corporation gave them wrongful notice to quit the staff quarters in Kano.
In a letter signed by Shehu Abdullahi, Kano State Coordinator, National Human Rights Commission explained that petitioners claimed that they instituted case at Court of Appeal, Lagos Division, in suit number: CA/L/750/2016, which according to them is ongoing.
Justice Watch News learned that the petitioners include: Mr. Tasiu A Gumel, Chairman, Railway Senior Citizen, Kano Branch and Mr. Kabir Mohammed Kuta Ag. Secretary of the Branch.
In the letter, sighted by Justice Watch News,  Captioned ' Referral of Complaint of Alleged Abuse of Court Process, the Rights Commission further explained that it wrote a letter to Manager Property, Kano Branch which requested the complaint be forwarded to Northern District of the Corporation, situated at Zaria, Kaduna state.
Read Also: Railway retirees, staff call Ameachi to rescind planned ejection
The commission maintained that it already referred the complaint to Kaduna State Office of the Corporation for further investigation.
However, in a reply by Railway District Manager, Zaria, Engr. O.H Alaka to National Human Rights Commission described the allegations of Mr. Gumel and Kuta as baseless and unfounded.
In a letter, captioned, RE: REFERAL OF COMPLAINT ALLEGED ABUSE OF COURT PROCESS, Engr Alaka stressed, that the petition designed by Tasiu, A.Gumel (Chairman, Railway Senior Citizen, Kano branch) and Mr. Kabir Mohammed Kuta (Acting Seeretary, Nigerian Railway Senior Citizen, Kano
branch) was largely built on fallacies and ignorance, stressing that it is quite elementary that an occupant cannot be forcefully evicted without following the due process of a  law or by a rent tribunal.
Read Also: Railway retirees petition Human Rights Commission over Alleged plan to sell monetised quarters
Justice Watch News gathered that Journalists were barred from attending stakeholders meeting  on Saturday held at Shehu Abdullahi Event Centre, Kano.
The meeting was scheduled to discuss the arrangements between the tripartite.
Immediately after the commencement of the meeting, some members insisted that Journalists shouldn't cover the event.
"All Journalists should go out from this place, we don't need you here, this is an issue that concern us not for public," a member shouted on top of his voice.
But the Chairman of the Senior Citizen Railway Kano Branch Tasiu Gumel insisted that Journalists must cover the meeting and tell the entire world about the alleged injustice.
"Why do you afraid the presence of media here if you're sincere. Let the entire world hear the outcome of this meeting, its no longer personal, this is an issue that affect many people, why do we do it in secret,"
"I'm here to fight for my right and the right of all retirees occupying quarters in Kano Railway." He stated
Mr Tasiu later walked out of the venue.
In a chat with Journalists after he stage a walk out, Gumel explained that the whole issue is about a court case.
He alleged that Management of Railway has failed to honour court order which restrained them from taking any further step in the quarters, pending the Court of Appeal judgement.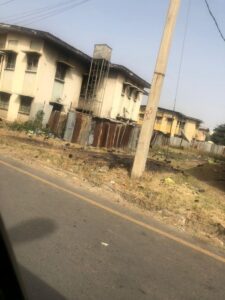 Mr. Gumel emphasized that  he would not porfeit his rights, insisted that the case is still pending in court, noting that its  better to hold on allow to court decide.
"They planned to sale each house at the sum of over N200 million and give us N7 million. This is injustice" Gumel stated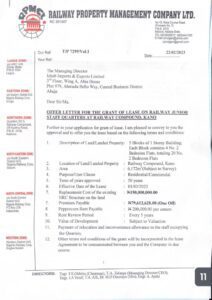 However, when contacted, Chairman of Railway Workers Association, Comrade Abdullahi Magaji Ya'u denied all the allegations made by Tasiu Gumel.
Read Also: Kano Governor Revokes Sales of Hasiya Bayero Paediatric Hospital, Governor's Lodge
He said the Tripartite meeting was to honour court order.
He explained that court has ordered for the settlement out of court, explaining that the meeting was sequence to the court order.
He denied the allegations that he is under pressure to support the management decision.
"I prefer this matter to be settled outside court. We don't know how soon the court will deliver its judgement" Comrade Ya'u further said.