-UK Entertainment, a prominent film production company, has recently unveiled its latest project, a Hausa series film titled "Fatake," aimed at reaching Hausa communities worldwide.
The Chief Executive Officer (CEO) of UK Entertainment, Malam Umar Sani Lawal, also known as Umar UK, shed light on the company's long-term strategy and the motivations behind the production during a media interview.
Read Also: Enthusiasm Greets NDLEA, LESPADA Road Show In Kano
Umar UK emphasized that the team at UK Entertainment embarked on an extensive research and analysis process to break away from the conventional thinking prevailing in the industry.
He said the result of their efforts is a groundbreaking film that not only caters to audiences in Kano and Nigeria but also encompasses various African countries, effectively capturing the essence of the Hausa culture.
The CEO further elaborated on the significance of incorporating the cultural values and dialects of different Hausa groups. To ensure authenticity and accuracy, the production team immersed themselves in each country they visited, engaging local artists, actors, and actresses who were able to deliver the required regional nuances and linguistic variations.
Read Also: Introducing Korbit Dispenser Bottle with Automatic Electric Pump: Clean, Safe, Affordable Water Solution
Moreover, Umar UK highlighted the driving factors behind Hausas leaving their native countries, which encompassed pursuits such as business ventures, educational pursuits, and even royal disputes. These factors formed the core narrative thread of the film, starting from the heartland of the Hausa people, Nigeria and Niger, then extending to Ghana, Niger, Mali, and Cameroon. Each location served as a backdrop for exploring the unique experiences of the Hausa diaspora, unveiling the diverse languages, accents, and dialects along the way.
Umar UK pointed out that the film represents a departure from previous company's productions, as it delves into the intricacies of the Hausa community in a truly immersive manner.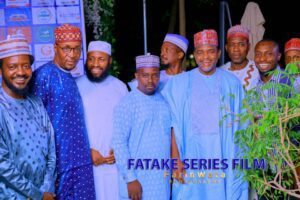 "The film's premiere was marked by an elegant dinner hosted by UK Entertainment, attended by esteemed guests including the Chief of Staff of the Kano State Government House (COS), Alhaji Shehu Sagagi, government officials, and notable individuals.
"The event also witnessed the presence of renowned figures from the Kannywood industry, including producers, directors, and other industry professionals." He further stated.
To ensure widespread access, Umar UK revealed that "Fatake" would be broadcast on Gaskiya TV Plus channel via satellite on July 2, 2023. The airing is scheduled for 8:00 pm Ghana time, 9:00 pm Nigerian and Niger time, and the channel is free for viewers. In addition, UK Entertainment's YouTube channel, as well as Gaskiya TV Plus, will feature the "Fatake" series and other captivating films produced by the company.
Read Also: President Tinubu Retires All Service Chiefs, Advisers, CG Customs, Appoints New Ones
"In essence, we encourage all our loyal viewers and even those who are new to our productions to seize this opportunity and witness the unparalleled quality of 'Fatake' firsthand," Umar Uk concluded.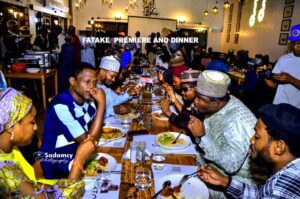 For more information on accessing Gaskiya TV Plus via satellite, viewers can tune in to Badr7 @ 26°E, Frequency: 11010, Symbol rate: 27500, Polarisation: Vertical.
About UK Entertainment: UK Entertainment is a renowned film production company known for delivering exceptional content to a diverse audience. With their latest release, "Fatake," the company aims to captivate Hausa communities worldwide, offering an immersive storytelling experience that showcases the richness of Hausa culture and traditions.
Stay connected by subscribing to their YouTube channel, UK Entertainment, and Gaskia TV Plus