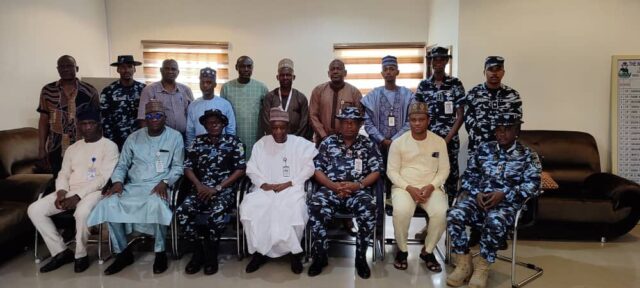 By Abubakar Abdullahi
The Gombe State Commissioner of Police on Saturday received the Chief Medical Director Federal Teaching Hospital Gombe.
In a statement by ASP Mahid Muazu Abubakar, Command's Spokesperson, the Commissioner of Police Gombe State Command, CP Oqua Etim has received the Chief Medical Director, Federal Teaching Hospital, Gombe on a familiarization visit in his office at the State Headquarters.
Read Also: FRSC Corps Marshal Fake LinkedIn Account Currently In Circulation, Gombe Sector Commander, Cautions Job Seekers
In his remark, the August visitor Dr Yusuf Muhammed Chief Medical Director FTH Gombe appreciates the CP for receiving them despite the short notice, the CMD applauded the CP for his hard work and outstanding contributions in ensuring the safety and security of the citizens in the state, especially during the just concluded General Elections.
He appreciated the interagency collaboration between the two sectors, saying it has yielded a positive outcome due to the presence of MTD personnel in the Accident and emergency unit which has limited more untimely death.
Read Also: Police arrest 2 armed robbery suspects in Gombe
In his response, the Commissioner of Police thanked the CMD for his words of encouragement, noting that it will push the command to do more in exercising its mandate.
The assured that the Command will continue to provide adequate security for the safety of staff and their clients in the hospital.