By Comrade Umar Ibrahim Umar
Who ever is following public discourse particularly in various social media platforms, it is absolutely correct to say this is the most critical time for entire Kano people, especially those living in metropolis.
The activity of phone-snatchers have continue to strike fear into the mind public.
Phone snatching is not new crime, but continue to rise day by day.
It is the criminal use of offensive weapons to seize or gripped a mobile phone from its owner.
The perpetrators of phone snatching syndicates cut across many major streets in Kano Metropolis.
They deployed a lot of criminal and coordinated plans to unleash the mayhem on innocent victim.
Sometimes they carried out their ugly trend in groups, sometimes in Tricycle or by feet.
Sometimes they poised as passengers who are willingly seeking for help, or disguised as Tricycles' drivers with the intent to commit the heinous act.
In most of the incidences, the phone snatchers connived with some criminal Tricycles' owners to commit the atrocities.
As i mentioned earlier, the rate at which people with criminal mind commit this act, is rising at alarming rate and causing a great concern from members of the public, calling on security and all relevant stakeholders to put hands on deck with a view to end the menace.
The Police say they are doing their best to ensure that all the arrested suspects are dealt with according to the provision of the laws.
Several lives have been lost, property has been seized and many victims were injured to this atrocity.
As I'm writing this piece,  the family of one Abba is still mourning the death of their beloved son, who was attacked and stabbed to death in his chest and carted away his phone.  May his soul rest in peace.
Some people who are not conversant with the  Administration of Criminal Justice, continue to  accuse judges for admitting suspect of phone snatch to bail not knowing the court only adjucate over what Police investigated and prosecute before the court.
Bail is constitutional right of every citizens, however, admitting person standing trial on criminal allegations defend on nature of the offence.
It is significance to understand that offences are categorised into capital, misdemeanor, compoundable and non compoundable offences.
Relatedly, it is important to note that all the offence under the categorised offences  are bailable with the exception of capital offence.
Before we accuse court for granting suspect of phone snatching to bail, it is also important to understand the offence under which the suspect charged to court.
Bail is at the discretion of the court itself, 100 times, if Police will continue to arraigned suspect of phone snatching with the extortion or lesser offence, court is handicapped to try the suspect with capital offence.
If we truly want to address this problem society must to come together with a view to fine tunning modalities to check the menace.
Considering the current situation, everyone will strongly believed with me that phone snatching is beyond extortion.
The judges and magistrates hands are tied. I urge Nigeria Police who are highly professional in crime prevention to do the needful by arraigning phone snatchers with armed robbery charged and that in reliance with mayhem and atrocity they unleashed on innocent citizens.
In my candid opinion we do not need a new law concerning this phone snatching because we have it already.
To address the lingering problem, the Police should commence charging them with the proper offense they committed which is ' Armed Robbery' because that is the proper charge the suspects should be charged with.
The offense of Armed robbery is defined under section 1 (2) of the Robbery and Firearms (Special Provisions) Act Any suspect armed with any firearms or any offensive weapon or is in company with any person so armed, or immediately before or immediately after the time of the robbery the
said suspect wounds or uses any personal violence to any person (his victim) he commit the offense of robbery.
If we critically look upon these criminal elements of the offense, the phone snatchers have fulfilled all the requirements. Forinstance, They are armed with offensive weapons, they are in company with a person so armed, at or immediately before or immediately after the time of the robbery the
said suspect wounds or uses any personal violence on their victim.
Therefore, any person arrested in connection with this offense shall be charged before High Court and in conviction should be liable to be sentenced to imprisonment for not less than twenty-one years.
Doing this will serve as deterrence because the offense is not generally bailable and there is a long journey before the conclusion of the trial.
However, I urge the judges, Police, and all persons in criminal justice to ensure the suspects face the full wrath of the law.
May Allah save us from evil acts. Ameen
Some the  of Victims Killed by Phone Snatchers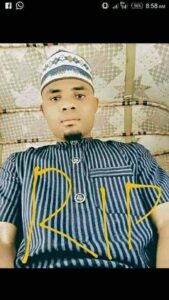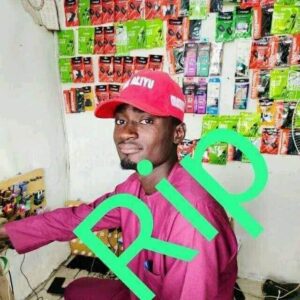 Umar Ibrahim Umar is a patriotic Nigerian and broadcasting journalist with a passion for human rights and anti-corruption activism also a serving Executive Director of War Against Injustice and can be reached via [email protected].