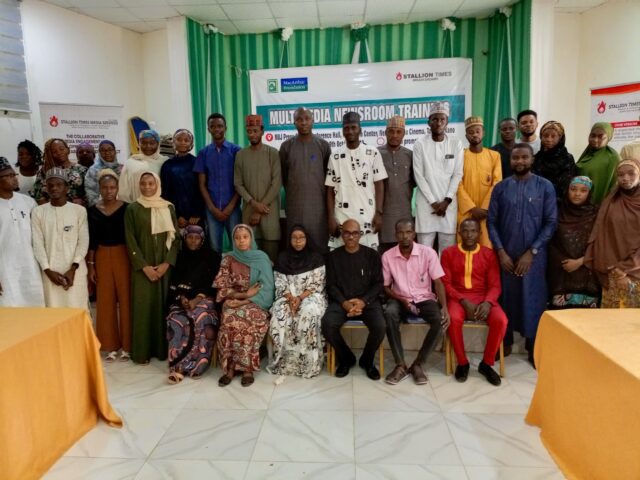 By Abubakar Adamu
The Stallion Times Media Services Limited has organized a media training workshop on multimedia newsroom storytelling in Kano State.
Addressing the participants, Editor-in-chief, Stallion Times, Isiyaku Ahmed said the workshop, which aimed to enhance the capacity of media practitioners, was attended by journalists selected from different media platforms.
Read Also: Stallion Times Trains 40 Kano Journalists on Media Standard …Harps on Gender, Social Inclusion
He further said the workshop was part of Stallion Times' three-year participatory Governance and media literacy project called "Get involved, Dialogue and Improve (G-DRIP)" in Kano and Kogi states.
Ahmed pointed out that The Stallion Times Media Services Ltd. workshop was a valuable opportunity for media practitioners to enhance their skills and embrace the evolving landscape of news reporting in the digital age.
He maintained that the project, implemented in collaboration with the Wole Soyinka Center for Investigative Journalism and supported by the MacArthur Foundation, aims to build the capacity of media practitioners in various areas including journalism ethics, safety, media literacy, independence, and sustainability.
Read Also: Investigative Journalism: Stallion Times Trains 40 Journalists… Harps on Indepth Analysis
Ahmed explained that in the age of media convergence and changing news consumption patterns, the workshop emphasized the importance of embracing technology and utilizing multimedia platforms to deliver investigative reports.
Read Also: Stallion Times Conducts 'Conflict Sensitive Reporting' Training for Journalists in Kano
He noted that through hands-on sessions, the participants were introduced to the concept of multimedia newsroom, storytelling, incorporating text, static images, animation, videos, and audio clips to cater to diverse audiences and platforms.
Isiyaku Ahmed, stressed the significance of adopting a multimedia approach to improve investigative report writing skills.
According to him, the workshop provided practical experience and guided participants in exploring the various multimedia platforms available for producing compelling stories.
Justice Watch News Correspondent gathered that, as the workshop concluded, attendees were encouraged to enhance their newsroom storytelling approaches, making use of the newfound knowledge and technology to engage their audiences effectively.