The son of Police Inspector, Apagu Wabba, serving in Kano Command of Nigeria Police, Apagu Jonah Wabba has emerged the overall best graduating student in University of Jos 2019- 2020 Session.
Jonah Wabba graduated from the Department of Electric Electronic in Faculty of Engineering with 1st class position, CGPA 4.94.
In this interview with Campus Magazine narrated expressed his gratitude to God for the record he established.
He Recieved  7 awards during the just concluded 33 and 34 Combined Convocation Ceremonies 2018/2019 and 2019/2020.
VC Presented 7 prizes accordingly
1. Chancellor's Prize for the overall best graduating student in the University of Jos Apagu Jonah Wabba, UJ/2015/EN/0023 CGPA 4.94.
2.Pro-Chancellor and Chairman of Council's prize for the overall best graduating student in the University of Jos
3. Vice Chancellor prize for the overall best graduating student
4. Mary and Jame Dakas for the overall best graduating
5. Prof Johnny Kennedy Okpara for the overall best graduating student
6. Felix Akiga's best graduating student
7. Faculty of Engineering best graduating student
In this interview he narrated his passion to become an Engineer as well as path he followed.
How does it feel graduating with first class in Engineering from University of Jos ?
Graduating with a first class in Engineering from University of Jos, I feel satisfied and fulfilled, knowing that I've been able to achieve something very important during my time in the University of Jos. I am also eager to see what is waiting for me out there and how i can play own part in making Nigeria and the world a better place. Overall, I feel satisfied and happy that I've been able to achieve one of my targets.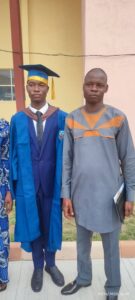 You're among the second set of graduates from your department, has there been anyone with first class prior to yours?
Yes, there have been first class students before me. The previous set had two people who graduated with a first class.
How easy was it graduating with a first class?
Graduating with a first class was not really an easy task. A lot of hard work, efforts, dedication, discipline and sacrifice were put in to get this done. From the start, things were a little bit difficult, certain things started becoming more simpler and easier as I began to gain mastery of certain concepts and strategies.
Some people will think you did certain things differently from others to achieve it?
I did not say I did quite a lot of things differently then different circumstances we have all been exposed to exposures, whenever we carry out necessarily same activity produce same result. In my case, yes there might have been certain things I did differently from others because I always considered my peculiarity and uniqueness as God would help me identified what i needed , God was the one did it for me.
Some people run away from studying Engineering becauSe they see it is difficuit and voluminous. Is that true?
Regarding whether engineering is so difficult on
Just like l mentioned earlier, we all have different
experiences. What is difficult for me, may not be difficult to another person because of our diference and uniqueness. Those saying engineering is difficult might be saying so because of what they can handle and how well they understand the
concepts involved, while those saying engineering is simple might also be saying so because of what they can handle based on the experiences or exposure they've had. For me personally, studying engineering was not entirely dificult because it's something I love and have always wanted to do, It may not be the case for someone else because they might have had different level of exposure and passion for engineering. With regards to engineering being voluminous, yes whatever discipline you consider in engineering is very wide and there are new things being added everyday. But then engineering requires a certain level of critical thinking ability when compared to other disciplines, it is expected that an Engineer should be able to understand and breakdown complex stuffs and solve critical problems that are related to their discipline.
Many Engineering students refer to the long list of Engineering formulars, principles and theories cut across every level, how did you cope?
With regards to how I was able to cope with formulars, principles and theories, over the years was able to adopt particular strategies and paying attention to my abilities strengths and weakness. How I was able to get most of these principles and theories into my memory was easily relating them to things I already knew, that way it becomes easier for me to remember them. Whenever I read, I ensure that I go forunderstanding, because the moment I gain understanding of whatever concept or idea l'm reading, i have higher tendency of remembering and applying them when needed. Regarding the formulars, most of the time I created
my own formula sheet where I pull out all the formulars of a particular course and before exams or text comes up I would revise through the formula sheet and whenever I had something complex to solve I referred to my formula sheet to see what Would work for the problem. The idea is regards to how you'd be able to cope and handle things like this.
Did you dream to become an Engineer?
Yes, I've always wanted to become an Engineer. From a tender age 've always been interested in devices, understanding how they work and all that. Infact, I've destroyed a lot of devices into my curiosity to understand how they were made of and what i could use them to do, sometimes i created stuffs using destroyed electronic components example i can remember when I was in secondary school. I created a small, electrical fan that had a switch and was using batteries which was later stolen in school. I also designed small motorcycle and decorated it with small light bulb so at night it glow and look very nice. those kinds of things from average so I knew the passion and when it got to the point where I needed to write Jamb it was.
Did you have any dificulty in securing admission into the university ?
I did not experience any difficulty in securing admission intothe University of Jos. I wrote JAMB once and I got admitted and I scored all my O level papers with flying colors in one sitting. Though I remember that I almost missed my post UTME Exams in 2015 because l had misplaced all my documents the day before my Exams and was lucky that someone had picked it upI was able to locate the person the next day and then proceeded to the Exam Venue.
Would you say you're a genius or was it just hard work?
Well, for me this was not just hardwork because a lot of people probably put in more work than I did, but at the end of the day it's beyond just the work that had been put in. From very tender age, a lot of my teachers and those who knew me have said that I'm a genius but at the end of the day I'll ascribe everything to God. I'll say He's the only differentiating factor who made all my efforts and hardwork productive.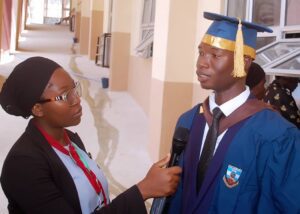 What was your typical day as an undergraduate?
My typical day as an undergraduate was to wake up in the morning and go to school whether I had lectures that morning or not.I always ensured I was in school for my lectures and when I dont have lectures I go to the library. After my lectures I'd still go back to the library. The library do close by 6:00 pm, so most times I leave school around 6:00 pm, get back to the hostel and look for something to eat, rest a little then gist sometimes with my friends in their rooms or go to the common room in Abuja hostel to read, then go to sleep. For days when I had fellowship actvites, I leave school earlier, I attended FCS (Fellowship of Christan students). So my typical day movement was lectures, Chapel of faith, common room, my friends place and my Lovely bed except days when I had other extracurricular activities to attend to.
How often did you use the library since there were so many things to read?
I used the library almost everyday, when I don't have lectures. I'm always in the library till around 6:00 pm, and when I have assignments or something to do over the weekend I also use the library on Saturdays and close by around 4:00 pm but I'm not always there reading sometimes I just go there to browse.
Were you very social?
Well i did not relate so much with a lot of people, I was very careful with regards to how I related with others so that at the end of the day I don't get distracted by wanting to relate with many people, so I maintained a small circle of friends at most times, and ensured I had quality relationship with them because I wanted to minimize distractions as much as I could.
What challenges did you face in school?
When I came in newly one of the challenges I faced was shuffling between main camp and permanent site everyday, some days in the evening when I'm done with lectures, I trek down to permanent site where my hostel is located in a bid to reserve money for other things, asides that we always had short semesters in Unijos so there was always a lot to cover within short periods of time so there was always a need to be careful with how I spend my time, while I was in 200 level I was able to secure a scholarship which went a long way to help me settle a lot of my financial needs.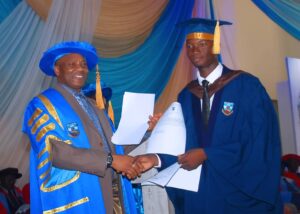 What will your advice be to students, both the incoming and those already in school to do, to have an excellent result ?
My advise to them is that, they should be intentional about what they want to achieve and the kind of results they want to get a by being intentional, they should be willing to put in the needed efforts and sacrifices that are required to produce the kind of results they are aimning at. They should also understand that we are all different and unique so they should be able to develop study techniques that are peculiar to them, they should not do things simply because others do them, because they may not get the same result due to the differences in how they would respond to different study techniques and what their different interests and abilities might be.