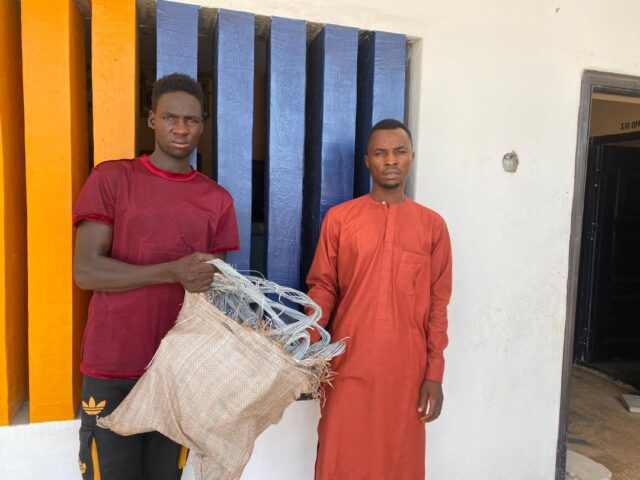 Jigawa State Police Detective attached to Kazaure Divisional Police Headquarters, has arrested one Muntari Yahaya 'm' age 23yrs of Wajen Gabas, Kazaure LGA, in possession of Copper Armored Cable 8MM by length in a sack along Kanti quarters Kazaure LGA.
DSP Lawan Shiisu Adam, Command's Spokesperson in a statement said the arrest was made on 22nd July, 2023 at about 1100hrs based on credible and actionable information.
Read Also: Bauchi Governor to establish Mobile Court for prosecution of Sara-suka Thugs
He also said on interrogation, the suspect confessed to having vandalized the Government Street Light Armored Cables at Gamji and Shaiskawa quarters all in Kazaure LGA.
He also mentioned one Akibu Lawan 'm' 25yrs of Kanti quarters Kazaure LGA as a receiver of the said stolen property.
Read Also: Kano Legal Practitioner Petitions Police Seeking Protection of Self-acclaimed Billionaire, Rufa'i
"The duos are in Police custody giving useful information for the possible arrest of fleeing suspects.
"The suspects will be charged to court for prosecution after a discreet investigation.
Consequently, he added that on 23rd July, 2023 at about 1000hrs one Salisu Mohammed 'm' of Yarimawa quarters Kazaure LGA reported that on 22nd July, 2023 at about 2000hrs, he parked his Royal Motorcycle without registration number at one Islamic Chemist opposite Kazaure Motor Park and he later discovered that the Motorcycle was stolen by an unknown person.
Read Also: Police Arrest Thief on His way to dispose stolen Tricycle
"On receipt of the information, Detectives attached to Kazaure Division swung into action, where one Lirwanu Ya'u 'm' age 20yrs of Kanti quarters Kazaure LGA was apprehended in possession of the said stolen Motorcycle.:
"On interrogation, the suspect confessed to having stolen the said Motorcycle and also confessed to having committed atrocities and stealing valuable items within Kazaure LGA." He explained.
The suspect was charged in court.
The PPRO, similarly said, on 24th July, 2023 at about 1400hrs, a joint Patrol with Policemen and a vigilante group impounded one Motor vehicle Golf Wagon with registration number HJA 766 SU ash in color, driven by one Abdullahi Muhd 'm' age 25yrs of Kasuwar Kofa quarters Hadejia LGA conveying one cow suspected to be stolen along Three Brothers Rice Mills Company Hadejia.
He stated that on sighting the Policemen, the passengers onboard fled to an unknown destination and left the driver alongside the stolen cow.
Read Also: Police Academy Commences Application into 10th Regular Course Cadet Degree Programme
"When questioned, the driver could not give a satisfactory account of the said cow.
"Before this incident, there was a report of suspected cattle rustlers used to fellow the said axis, hence the patrol team was detailed to manned a stop and search.
He added that the Suspects will be charged to court upon completion of the discrete investigation.
"The Commissioner of Police Jigawa state Command, CP. Effiom Emmanuel Ekot calls on well-meaning citizens to take part in surveillance and watching of some government installations, this will help in preventing undesirable elements to vandalize Government Properties."