The National Drug Law Enforcement Agency (NDLEA), Kano State Command, has intercepted a significant haul of Cannabis Sativa, squashing a major drug syndicate in the process.
ASN II Sadiq Muhammad Maigatari, Ag. PRO, NDLEA, Kano Command made the disclosure in a statement issued on Wednesday.
Read Also: NDLEA arrests drug lord while giving mule 93 cocaine wraps to swallow in Lagos hotel
He said the bust, which took place at Garindau near the bridge of Wudil in the Wudil local government area of Kano State, resulted in the seizure of a whopping 116 bags of cannabis, weighing in at an astonishing 1,553.1 kg. The stash included 50 bags of compressed cannabis, with each bag containing 25 blocks summing up to 1,250 blocks, in addition to 66 bags of loose quantities of the drug.
He further said this successful operation was the result of a well-coordinated surveillance operation, based on vital intelligence reports along with the coordination of resources and personnel.
Read Also; NDLEA investigating shooting incident involving officers in Delta
According to him, the officers, who have been on the case for two months, were able to track and intercept the drugs, which were loaded from Lokoja and en route to Jigawa.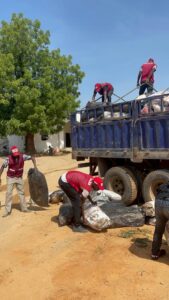 "During the operation, two suspects were apprehended: Jonathan Nuhu, a 45-year-old from Kanke village in Plateau State, and Muhammad Abubakar, an 18-year-old from Kumbotso local government area of Kano State.
"Both individuals are believed to be part of a larger drug syndicate that specializes in transporting cannabis to northern Nigeria and distributing it to various dealers."
Maigatari pointed out that the arrest is a significant accomplishment for the Agency in the ongoing efforts to combat drug trafficking and protect public safety, noting that It represents a major blow to the illegal drug trade and disrupts the supply chain for distributing drugs in Kano and neighboring states.
He added that despite the success of the operation, two other suspects managed to evade capture at the point of arrest and remain at large.
"The NDLEA is continuing its efforts to bring these criminals to justice.
This case serves as a testament to the diligence and bravery of the NDLEA officers, who are on the front lines in the fight against drug trafficking.
Read Also: Kano NDLEA arrests 1,064 suspects, seizes 7530.813kg illicit drugs in 12 months
The State Command under Abubakar Idris Ahmad, CN, will remain vigilant and dedicated to its mission of upholding the law and protecting the good people of Kano State.