The Nigerian Air Force Officers' Wives Association (NAFOWA) in commemoration of the 2023 Breast World Cancer Awareness Month, has joined other well-meaning individuals, corporate and government entities worldwide to beam attention and raise awareness about the ravaging disease.
A statement by Air Commodore Edward Gabkwet Director of Public Relations and Information Nigerian Air Force said the NAFOWA's awareness carried out under the leadership of its National President, Architect (Mrs) Rakiya Abubakar.
Read Also: 2021 World Hepatitis Day: Many People Live With the Virus, Not Aware – Consultant
Air Commodore Edward further said to commemorate this year's awareness month, the Association organised a one-day health walk, lecture and free cancer screening exercise in Abuja earlier today, 7 October 2023.
Speaking at the lecture with the theme, "Routine Checkup, a Panacea for Early Detection," Architect (Mrs) Rakiya Abubakar disclosed that in 2020 alone, available statistics by the World Health Organisation (WHO) revealed that about 78,899 cancer-related deaths were recorded in Nigeria while women often bear the brunt as breast and cervical cancers account for over 40 per cent of all cancer-related deaths.
Read Also: Air Force wives seek more support, collaboration from NAF
These statistics were, according to her, disturbing hence the need to pay greater attention and create awareness on the benefits of early detection, which is critical to the survivability of cancer patients. According to her, "Health experts have also noted that if cancer is detected early and in the localized stage, a patient has a high chance of survival. This is why NAFOWA has taken it upon itself to lend its voices towards creating awareness across our various barracks and communities."
Architect (Mrs) Abubakar also announced the approval of free cancer screening for wives of Air Force personnel and other Services on 9 October 2023 as well as 50 per cent discount for others from 10 -17 October 2023 at the NAFOWA Cancer Screening Centre situated at NAF Base, Bill Clinton Drive, Abuja.
In her remarks, the Special Guest of Honour and the former Minister of Women Affairs, Dame Paulen Tallen commended the National President of NAFOWA for organizing the Breast Cancer Awareness Lecture and Walk which, she said, will no doubt draw attention to the dangers breast cancer poses to women in general.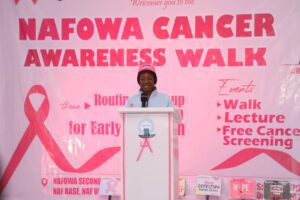 She also expressed her satisfaction with the theme selected for the 2023 NAFOWA cancer awareness campaign, just as she emphasized the importance of routine medical checkups which allow for early detection of not only cancer but other ailments that can be detrimental to women in particular.
Read Also: Turkish Ambassador Seeks Enhanced Defence Collaboration, Ready to Transfer Technology to NAF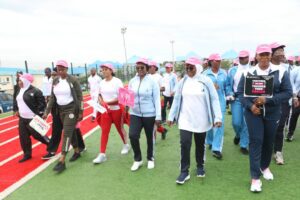 NAFOWA remains at the forefront of advocating for the well-being of women, youths and children. Aside its numerous poverty alleviation and empowerment schemes, it has, since 2008, established the NAFOWA Cancer Screening Centre which has continued to play a major role in the early detection of breast cancer among women.