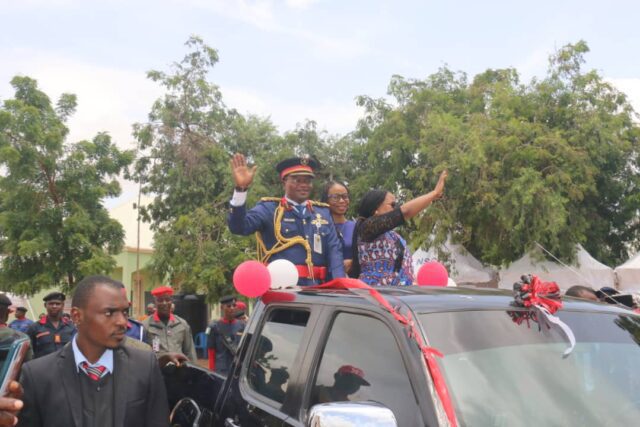 By Abubakar Abdullahi
The Gombe State, Nigeria on Thursday marked a significant moment in the history of the Nigeria Security and Civil Defence Corps (NSCDC) Gombe State Command, as Commandant Achir, D. Abraham, officially retired from active service in a remarkable ceremony.
The event, graced by prominent dignitaries, showcased the commandant's illustrious career and his unwavering commitment to safeguarding the people of Gombe State.
Read Also: sallah celebration: NSCDC deploys 1125 Personnel in Jigawa
The retirement ceremony held at an esteemed venue, witnessed the presence of Gombe State, Governor Alhaji Muhammadu Inuwa Yahaya, represented by the Director Special Services and Political, Government House, Alhaji Bala Sarki, Eminent heads of various security agencies and other important figures from the state were also in attendance, showing their respect and admiration for the outgoing commandant.
Read Also: NSCDC secures conviction of 4 vandals to various prison terms
During his valedictory speech, Commandant Achir urged the officers and men of the NSCDC to uphold their dedication, resilience, and focus in ensuring the safety of lives, properties, Critical National Assets, and Infrastructure.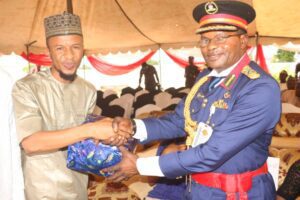 His words resonated deeply with those present, reflecting the ethos of the organization and the values that he embodied throughout his tenure.
Gratitude filled the atmosphere as Commandant Achir extended his heartfelt appreciation to his management team for their unwavering support during his tenure in Gombe State.
He also expressed his profound gratitude to the Commandant General, Dr. Abubakar Ahmed Audi, for entrusting him with the opportunity to serve in this capacity.
Read Also: NSCDC Arrests Three Persons For Stripping Lady Naked In Ekiti
Commandant Achir's distinguished service to the nation and his exceptional leadership in maintaining peace and security in Gombe State received high commendation from all quarters.
Under his guidance, the NSCDC achieved remarkable milestones, leaving an indelible mark on the state's security landscape.
As Commandant Achir bows out of service, the legacy of his dedicated service will continue to inspire and guide the future endeavors of the NSCDC in Gombe State.
The commandant's impact on the security apparatus of the state will not be forgotten, and his name will be etched in the annals of the organization's history.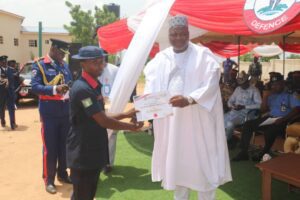 Read Also: Gombe NSCDC Commandant Promoted to Assistant Commandant General
In light of Commandant Achir's retirement, Superintendent of Corps Buhari Sa'ad, Public Relations Officer, conveyed heartfelt best wishes on behalf of the NSCDC.