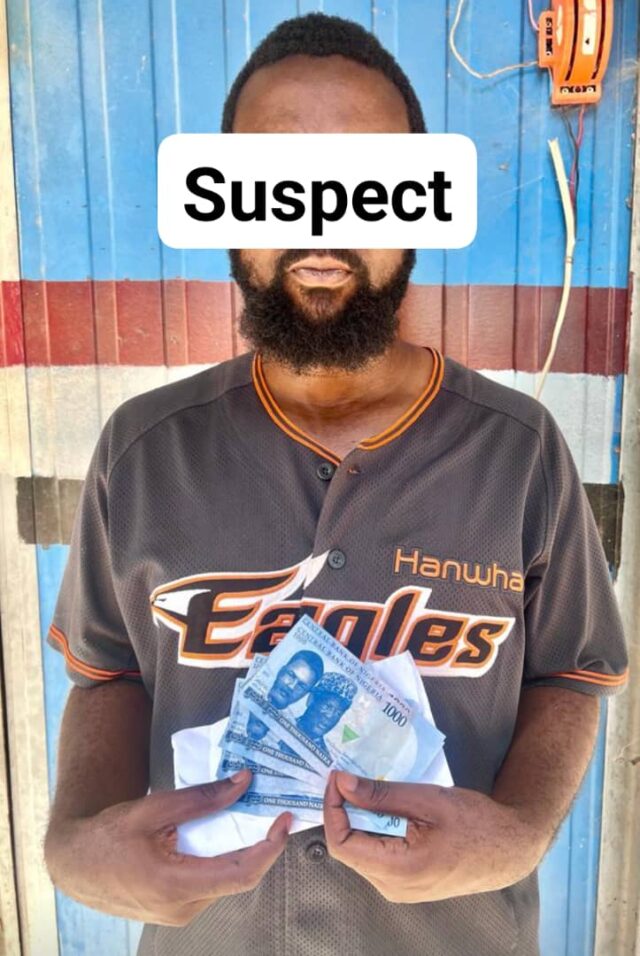 The Nigeria Security and Civil Defence Corps (NSCDC), Jigawa State Command, says it has successfully apprehended one Kingsley Nneji, a 29-year-old adhoc staff of Prime Gate Consultant.
According to CSC Adamu Shehu Civil Defence Public Relations Officer, Jigawa State Command, Nneji was entrusted with the bio-data capture of state civil servants but was caught engaging in illicit activities.
Read Also: Police Arrest Suspected Armed Robbers, Recover Stolen Items in Jigawa
He said the suspect was arrested on Wednesday, 8th November 2023, at the State Ministry of Finance in Dutse around 11:00 am.
CSC Shehu stated that the arrest was made following a complaint lodged by the husband of an aggrieved civil servant, who reported that his wife, an employee of Jigawa State College of Education, Gumel, missed the enrollment exercise due to an ailment.
Read Also: NSCDC Nabs 2 Car Snatchers in Kano
He further stated that the husband provided evidence that Mr. Kingsley, the suspect, conducted the enrollment at her workplace but demanded a bribe of N10,000 to register her.
"The complainant instructed his wife to record their conversations with the suspect, collecting various pieces of evidence."
"These included call records, serial numbers of the new banknotes given as payment, bank account details of the suspect, and a copy of the customised envelope used for delivering the money." Shehu also said.
He noted that upon arrest, the suspect was found in possession of the exact amount, neatly placed in the customised envelope as mentioned.
Read Also: NSCDC nabs 4 for Vandalism in Kano
Additionally, he maintained that a video of the suspect collecting the money was presented, and his handset corroborated the calls received, explaining that the suspect confessed to the crime and will face charges in court.
The CDPRO however maintained that the Chief Executive Officer of Prime Gate Consultant distanced the company from Mr. Kingsley's actions, stating that his contract with the company had expired on 4th November 2023.
The CEO also noted that all staff involved in the bio-data enrollment exercise were required to sign an indemnity agreement, vowing not to engage in any form of financial impropriety.