The Minister of Communication and Digital Economy Professor Isa Ali Fantami has said that the North/West Zone Data Storage Centre project in Kano will be ready for commissioning by March 2022.
Speaking in Kano while inspecting the ongoing project of the 41 Terabyte Data Storage Centre, created by the Galaxy Backbone Company, a Federal Government Company, under supervision of the Ministry of Communication and Digital Economy, said the project if completed will provide economic opportunities among the people living in zone.
Professor Fantami expressed his satisfaction with the quality of the project being done so far when it comes to the construction, the facilities deployed so far, the arrangements of power supply as well as the security of the area.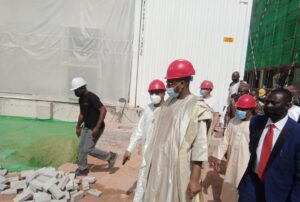 He said the memory capacity of the Centre at the initial stage of the agreement was around 41Terabyte and 2.2 Pentavite storage capacity, explaining that there is provision of second and third phases.
The Minister pointed out that the Kano North/West Zone Centre is the upgrade version of the Abuja and South Data Storage Centres, which were established many years ago.
" This Data Centre is being built in the country to provide storage facilities for both private and public centres in all part of the country I'm here today to look at its quality and specifications earlier agreed by the Federal Government."
" Northwest Centre is the tier 4 Data Centre, while that of Abuja and South were tier 3 Data Centres which were implemented many years ago. When it comes to the technology, this is high grade of the existing Data Centres in both public and private centres in the country."