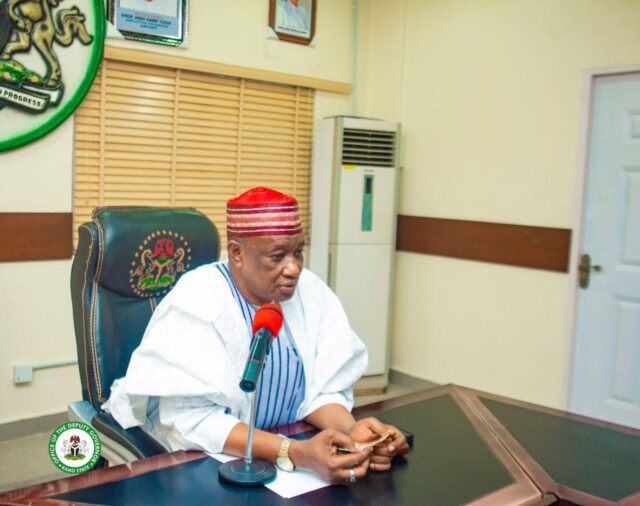 Kano State deputy governor, Cmrd. Aminu Abdulsalam Gwarzo says no single country would be developed without skills acquisition, especially in terms of enhancing the aspect of monitoring aspand provision of empowerment to it's teeming youths.
Sunusi KofarNaisa, Chief Information officer,
Ministry of Higher Education (MHE), Kano State in a statement said the deputy governor, stated this when he received a report by the State Committee on Resuscitation of Skills Acquisition Institutes under the leadership of Professor Aminu Suleman, at his office Yesterday.
Read Also: KNSG Pledges to revive Local Council Administration
Comrade Abdusalam Gwarzo, expressed displeasure for abondening of the skills acquisition institutes which initiated by Senator Rabiu Musa Kwankwaso during his tenures with intention of empowering the youths who are not opportune to have a degree or higher certificates, stressing that apart from Jigawa State government, Kano State is the second that established Informatic institute in the country then but unfortunately all the mission and vision distributed during the 8 years of Ganduje's Administration.
He assured the willingness of the present administration of Engr. Abba Kabir Yusuf, to revive all the skills acquisition Institutes in the state for the betterment of the teeming youths so as to become self reliant.
Read Also: Kano Legal Practitioner Petitions Police Seeking Protection of Self-acclaimed Billionaire, Rufa'i
" We are coming back after wasteful years of resources, we assured the people of the state His Excellency governor Engr Abba Kabir will resuscitate the institutes', he said.
Comrade Aminu Abdulsalam, thanked the committee for their job weldone, and commended the Commissioner for Higher Education, Dr. Yusuf Ibrahim Kofarmata for his foresight to set up the committee and complishing the assignment within the time frame.
Earlier, the Chairman of resuscitation of skills training Institutes, Prof. Aminu Suleman said in order to identify the exsitance, status of the Institutes as well as their shortcomings and submitted rubost report, methodologies so as the committee to conduct their assignment effectively and successful.
Read Also: Pictorials: State Government Reiterates Commitment to Open Government Partnership
Prof. Aminu, explained that after physical inspection of the facilities, the Committee was able to identify 17 number vocational and entreprenureship Training Institutes. Adding that the committee was come up with their findings and recommendations for further action.
The Chairman also thanked the state government for given them the opportunity to serve their state for the benefit of the teeming populaces.
Also Speaking, the Commissioner for Higher Education, Dr. Yusuf Ibrahim Kofarmata, commended the state government under the able leadership of governor, Engr. Abba Kabir Yusuf for its concerned to revatalised the abandoned Institutes.