By Hassan Turaki
The Jigawa State Police Command,  on Wednesday shed light regarding the arrest of nine suspects involved in various criminal activities bodering on drug dealers, motorcycle thieves, animal rustlers, and vandals.
DSP Lawan Shiisu Adam command in made the disclosure in a statement.
He said the arrests led to significant recoveries, including 5000 D-5 tablets, 300 Tramadol capsules, 240 rubber solutions, one stolen motorcycle, burnt electric wires, and two scissors.
He also said in one incident, a patrol team at Maigatari Police station apprehended one Abubakar Sale and Abdullahi Magaji, who were found in possession of a suspected stolen Lifan motorcycle.
Read Also: Jigawa CP Presents ₦59.7 Million Cheques to Families of Fallen Officers
He noted that further investigation revealed that the suspects had forged the motorcycle document.
According to the spokesman additionally, a raid conducted in Adiyani village by the Guri Divisional Police Headquarters, resulted in the arrests of Eze Christian and Ibrahim Yusuf.
Read Also: Gombe Police Rescue 2 Shabewa Kidnapped Victims Unhurt
He stated that the individuals were found with a substantial quantity of drugs, including 240 rubber solutions, 300 Tramadol capsules, and 5000 D-5 tablets.
DSP Shiisu pointed out investigation revealed that they were supplying drugs to the youth in Guri LGA and its environs.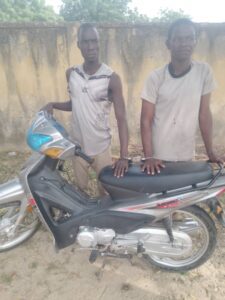 Furthermore he maintained that Abdullahi Muazu, Awwalu Uba, Abba Sale, and Jazuli Tukur were apprehended in Galadi village, Maigatari LGA, for possessing a slaughtered goat that was suspected to be stolen.
Read Also: Crimes: Adamawa Police Arrest 30-Year-Old Man Following Intensive Manhunt
He added that Abdulrahman Adamu was arrested for vandalizing electric wires in various offices at Government Day Secondary School, Gada Kazaure.
He similarly stated that the  suspect was found in possession of burnt electric wires and scissors.
He  assured that all suspects will be arraigned in court for prosecution.