By  Abubakar Adamu
The Controller General, Nigerian Correctional Service, Haliru Nababa has established a K9 unit
to bolster security and enhance safety in Correctional facilities nationwide.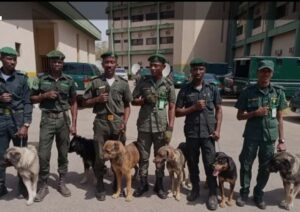 In recent years, a number of custodial centers across the country have encountered direct or indirect criminal attacks or attempted jailbreaks by suspected terrorists or organized inmates within the centers.
Read Also: NOUN Strengthens Partnership With NCoS for Improved Academic Packages for Inmates
The Kano Command's Public Relations Officer Corrections, SC Musbahu Kofar Nassarawa who spoke to Justice Watch News explained that the Correctional K9 is a Unit in the Nigerian Correctional Service that trains different breed of Dogs.
Musbahu Kofar Nassarawa said the Dogs are used in the Correctional facilities to prevent external and internal attacks of the facilities
He revealed that K9 section of the Service has trained dogs to detect any anomalies within correctional centers, adding that their capabilities include searching for prohibited items such as phones and contraband within the facilities.
The Kano Command's Public Relations Officer said "Inmates exhibit a greater fear of dogs than guns because while guns require instructions to be fired, dogs do not require any instructions."
He added that in Kano, K9 Unit has already been commissioned, noting that 15 dogs of different breeds have so far been provided in Janguza
Modern Custodial Center.
SC Kofar Nassarawa further disclosed that the
dogs can be deployed to provide additional support to officers during the court escort of inmates.
Speaking on the new order, ASC Najibullah Idris, the Katsina Command's Public Relations Officer, told Justice Watch News that Katsina State Command provided well-equiped Dog Unit (K9) at Medium Security Custodial Centre (MSCC) Katsina New.
Read Also: NDLEA made no request to buy sniffer dogs in 2023 budget
Furthermore, ASC Najibullah stated that Muhammad Abdulmumin Haruna, the Controller of Corrections for Katsina Command, recently conducted a routine inspection of the newly commissioned unit at the medium security custodial center in Katsina (Katsina New).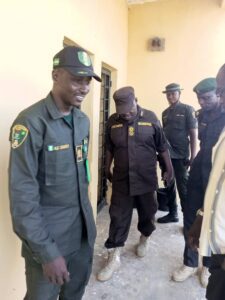 According to him, during the visit CC Abdulmumin was accompanied by DCC Ahasu Aliyu Superintendent In charge of  MSCC Katsina, DCC Yahaya Fari the Command's H/R, SOC Ahmed Jagusta Squadron Commander and ASC Rabe Mani the command's Transport Officer amongs others.
He further testified that the Unit will no doubt improve the security in the facilities.
Similarly, when contacted, ASC Ahmad Usman Tata, Bauchi Public Relations Officer, Nigeria Correctional Service, Bauchi Command also said 15 Dogs of different breeds were deployed to the newly established K9 Unit of the Command.
He assured that the Unit has been commissioned recently to support security structures in Bauchi Custodial Centers.