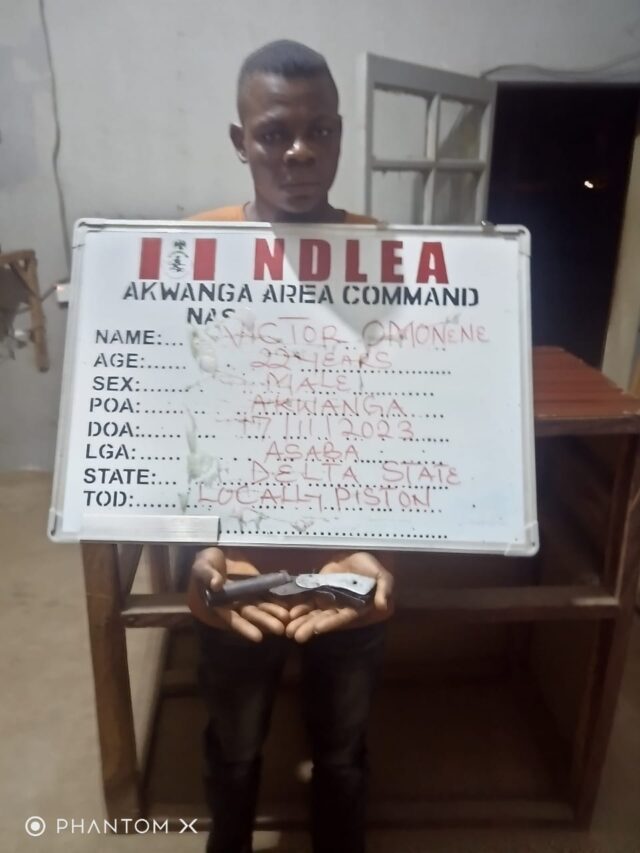 In an operation conducted by the Akwanga Area Command of the Nasarawa State Command of the National Drug Law Enforcement Agency (NDLEA), a locally made pistol was seized, leading to the arrest of a male suspect.
The incident took place today, 17th November 2023, during a motorized patrol along the Akwanga Abuja road.
Read Also: Nasarawa Governorship Tribunal Sacks Gov. Sule
The patrol team, led by Musa Dauda, SN, encountered a Sharon vehicle that had originated its journey from Makurdi and was en route to Mararaban Udege.
Acting on their instincts, the officers stopped the vehicle at approximately 1425hrs.
During the subsequent search, the officers discovered a locally made pistol in the possession of one Victor Omonene, a 20-year-old male.
Without hesitation, the officers swiftly took him into custody.
David Yamsak Milaham, the Principal Staff Officer of Media, Advocacy/Training at the Nasarawa State Command made this known in a statement.
Read Also: Man, 30, arrested with uprooted cannabis sativa plant, seeds in Nasarawa
He said the development reflected the dedication and vigilance of the NDLEA in combatting criminal activities and ensuring the safety of the public.
Read Also: NDLEA Destroys Cannabis Sativa Farm, Seizes 18.5kg in Nasarawa
He pointed out that the suspect, Victor Omonene, is now under the custody of the NDLEA, where he will face legal proceedings for possessing an illicit firearm.
He added that the agency will conduct a thorough investigation to determine the source and purpose of the weapon.
"This incident serves as a reminder of the ongoing efforts to combat illegal arms trafficking and maintain the security of the state.
"The NDLEA remains committed to its mission of eradicating the drug menace and related criminal activities within the society" He further stated
David Yamsak Milaham, CSN, Principal Staff Officer of Media & Advocacy/Training at the Nasarawa State Command, has assured the public that the NDLEA will continue to employ proactive measures to ensure the safety and well-being of the people of Nasarawa State.