The National Drug Law Enforcement Agency (NDLEA) Kano State says it it has conducted a raid on Bubles, a club in Kano that had reportedly been turned into a drug joint.
ASN Sadiq Muhammad Maigatari Ag. Public Relations Officer, NDLEA Kano Command made this known in a statement issued, Tuesday.
He said the raid was carried out in response to community complaints about drug-related activities at the club.
Read Also: Drug Abuse, Other Vices: NDLEA Operatives Apprehend 81 Suspects in Sani Abacha Stadium
In preparation for the operation, Command, Commander CN Abubakar Idris Ahmad, deployed intelligent officers to conduct surveillance on the club, adding thag based on the findings of the surveillance, he then sent in his crack team, Joint Task Force (JTF), to raid the club.
"During the raid, the gallant officers were able to apprehend 55 males and 30 females. Some of the suspects attempted to evade arrest by jumping over the fence while others tried to hide inside freezers.
"However, the JTF was able to nab them all."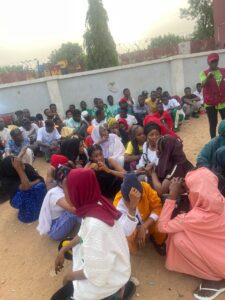 ASN Maigatari noted that the arrest of the suspects is a significant victory for the NDLEA in its fight against drug-related activities in Kano State.
He pointed out that the agency has been working tirelessly to curb drug trafficking and abuse, which have become a major problem in the state and the country as a whole.
"It is important to note that drug abuse and trafficking have serious negative consequences, not only on the individuals involved but also on society as a whole."
Read Also: 2 businessmen excrete 193 cocaine pellets in NDLEA custody after arrest at Abuja airport
The Ag. PRO of the Kano NDLEA, Maigatari stated that currently, the arrested suspects are under investigation to identify the drug dealers among them who will definitely face the wrath of the law and the drug users to be referred to the appropriate unit for counseling and brief intervention.
He further stated that the Commander Idris warned that there will be no hiding place for drug dealers in the state and urged members of the public to report drug-related activities to the agency.