The National Media Officer, Nationwide League One, (NLO) Mr Abdulgafar Oladimeji has reiterated that the Management of the League will not take it lightly with any team, player, official, coaching crew and others found violating rules and regulations of the ongoing competition taking place in different centres across six geopolitical zones of the country.
Mr Oladimeji, Media Officer of the League, who is also the Sani Abacha Stadium Centre Coordinator, made the disclosure at post match interview with Journalists between Kano Junior Pillars versus Arewa FC.
He said management of the League has already provided conducive atmosphere for all the teams to play in Sani Abacha Stadium and all other centres across the country.
He therefore charged all stakeholders to maintain the spirit of fair play and sportsmanship to achieve desired goals.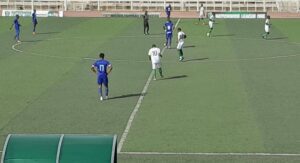 The Media officer, maintained that NLO has already addressed most of the challenges, noting that the reports coming from all other centres indicated that the matches and everything inrelation to the competition is going smoothly.
"We thanked God, the League has started and Kano has two centres, that is Sani Abacha Stadium and Kano Pillars Stadium and 18 teams will compete with each other in the 2 centres.
"Each Centre has 9 teams, so far so good, each team played two matches and generally it has been so fantastic, fans have been coming out to watch their teams. Interms  of officiating it has been so good. So far, no complaints but I still need to use this opportunity to further admonish that any stakeholder found wanting will be sanctioned severely.
Also speaking, Zaharaddeen Saleh, Chairman, Sports Writers Association of Nigeria, (SWAN) Kano State Chapter  said the competition is currently ongoing in Kano without any hitch, noting that this year's competition in Kano has come with good innovation, particularly the participation of media in all the matches.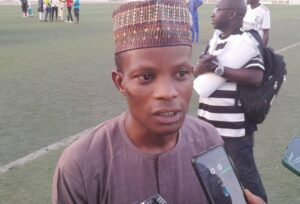 "I want to tell you that we are making arraignment to ensure that each team  in the league in Kano has its own media officer, as provided by NLO Rules and Regulations"
During the  encounter, Kano Junior Pillars defeated Arewa FC 2 goals to Nil.
Kano Pillars player, number 20 jersey Auwalu Abubakar emerged man of the match.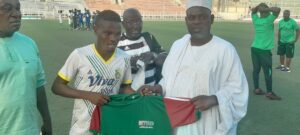 In his remark, Ahmad Audu Pele, Technical Adviser Kano Junior Pillars,  commended his team for securing 3 points in the match, but he however said their performance was below expectation, maintaining that he observed some few
hitches and will be addressed in  the next game.
"I assure you and entire people of Kano that by God grace my team will top the Group at the end of the competition"
Idris Ibrahim, Technical Adviser of the Arewa FC said eventhough his team lost but expressed happiness over the level of his boys performance.
"That is how the game of football is, we will prepare for the next game and i assure you my team will become victorious"