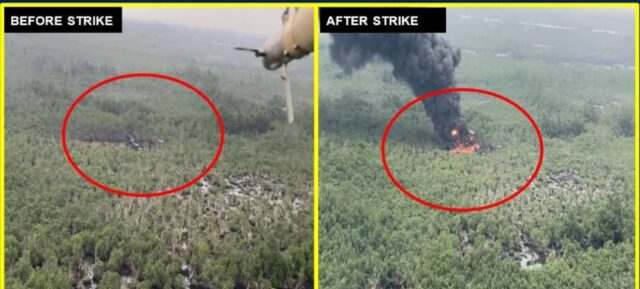 Air power's ubiquitous tendencies through its speed, range and flexibility again came to fore as various Nigerian Air Force (NAF) aircraft simultaneously decimated criminal elements operating in various parts of the country.
Read Also: NAF Operational State of Readiness Should Never be in Doubt – CAS Abubakar
Air Commodore Edward Gabkwet, Director of Public Relations and Information Nigerian Air Force made this known in a statement issued.
He said in the Niger Delta Region, air strikes were targeted at the nefarious activities of oils thieves which has continued to affect the general environment of the Region as well as the oil output of the Nation.
"As a follow up to previous air recce missions undertaken, NAF aircraft under Operation Delta Safe on 11 August 2023, conducted air interdiction missions at an illegal refining site situated Southwest of Bille, a coastal town in Degema Local Government Area (LGA) of Rivers State.
"Same day, air strikes were also extended to a well-known IPOB Camp in Orsumoghu in Ihiala LGA of Anambra State."
He said Intelligence had revealed that IPOB elements in makeshift camps were sighted preparatory to an impending attack on innocent citizens when the need to effectively engaged them.
Read Also: NAF Special Forces Rescue 7 Kidnapped Victims in Kaduna
According to the Director Information NAF, The strike was subsequently carried and deemed successful.
He added that similar air strikes were also carried out same day by the Air Component of Operation Hadin Kai at a location about 1.5km East of Arra, a once-deserted terrorists' hideout near Sambisa Forest.
Earlier reconnaissance on the location had revealed terrorists massing up at the location which had hitherto been cleared of terrorists' activities about 6 months ago.
"There were strong indications that these terrorists had fled from locations around Lake Chad after the areas came under intense bombardment by NAF aircraft.
"The location east of Arra was consequently attacked to decimate the terrorists and deny them settling at the location and using same as a staging point.
" Footage of the aftermath of the strike later revealed it was successful as several terrorists were neutralized and structures destroyed, while the few surviving terrorists were seen scampering away in disarray.
Read Also: Just In: NAF Trainer Aicraft Crashes In Makurdi
He confirmed that at the end, their ability to attack friendly forces as well as innocent civilians were degraded.