By Abubakar Abdullahi
The Chief of the Air Staff (CAS), Air Marshal Hasan Abubakar, has stated that as a Service subservient to the political class, the Nigerian Air Force (NAF) state of readiness and preparedness remains paramount and must never be in doubt.
Read Also: PHOTOS! NAF Resilience Hinged on Proactive Maintainance Culture, Logistics Support – CAS
This, according to him, was in line with NAF's constitutional responsibility to be ready to perform tasks that may be assigned to it by Nigeria's political leaders.
Air Marshal Abubakar stated this at his maiden meeting with Branch Chiefs, Air Officers Commanding and NAF operational commanders held earlier today, 10 August 2023, at NAF Headquarters Abuja.
He however warned that even as the Service remains in the state of readiness, personnel must continue to remain apolitical, patriotic and conduct themselves in the most professional and disciplined manner.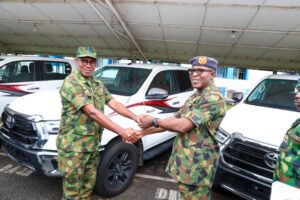 The CAS had earlier described the contemporary operating environment within the shores of Nigeria and across the West African sub-Region as diffuse and complex, with consequences on the political climate of the entire Region.
Read Also: NAF Special Forces Rescue 7 Kidnapped Victims in Kaduna
Speaking further, Air Marshal Abubakar had commended NAF operational commanders for their commitment in tackling the current security challenges facing the Nation.
According to him, "I am particularly glad about the recent heightened level of air operations across all our joint operations theatres which has seen us record tremendous outcomes."
He however observed that while so much has been achieved, a lot still needed to be done to ensure the NAF fully attained its set objectives.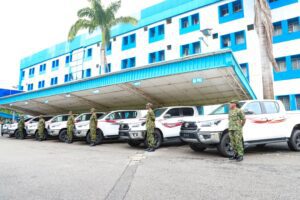 He then implored the commanders to ensure they utilize the opportunity of the meeting to interact frankly and objectively while proffering solutions and strategies that will translate to actionable consequences on the ground.
Read Also: NAF to recieve additional Platforms to boost Counter-Terrorism Operations – CAS
Earlier, the CAS had unveiled his command philosophy which he said would enable NAF personnel having a clear understanding of his focus on the future direction of the Service. In framing his philosophy, Air Marshal Abubakar stated that he took cognizance of the current state of NAF fleet which has been enhanced with over 70 new aircraft types with more being expected as well as the current security environment.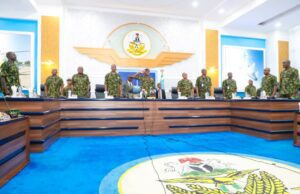 According to the CAS, "Only a carefully thought-out strategy guided by a strong philosophy can adequately situate the NAF to address the Nation's security challenges."
Read Also: Air Force wives seek more support, collaboration from NAF
Consequently, the CAS revealed that his command philosophy intends to, "To transform the NAF into an agile and resilient force that effectively meets the airpower demands of national security in all operational environments.
Read Also: Base Defence: NAF Graduates New Batch of Force Protection Squad
To translate his philosophy into tangible gains on ground, the CAS stated that he will leverage on technology, innovation, lessons learnt as well as the personnel and fleets at his disposal to effectively checkmate the security threats confronting the nation.
These are aside the 5 key enablers that he believed will drive his philosophy to fruition.
On the sideline of the meeting, the CAS also handed out brand new Hilux Toyota vehicles to 7 Air Warrant Officers in honour of their selfless services to the NAF, the Armed Forces of Nigeria and the nation at large, having attained the pinnacle of their careers. According to Air Marshal Abubakar, "This gesture was in line with one of the key enablers of my Philosophy to, 'Maintain a highly motivated force by enhancing welfare and infrastructural renewal.'
He then hoped that the gesture would spur others to work harder and aspire towards contributing their best to the growth of the NAF.
Read Also: Update: CAS Abubakar Visits NAF Pilots Involved in Makurdi Air Crash
The meeting brought together all Branch Chiefs, Air Officers Commanding as well as Commanders of Direct Reporting Units and Operation Units.
Air Commodore Edward Gabkwet Director of Public Relations and Information Nigerian Air Force in a statement issued noted that the issues germane to enhancing ongoing air operations as well as welfare of NAF personnel were tops on the agenda.