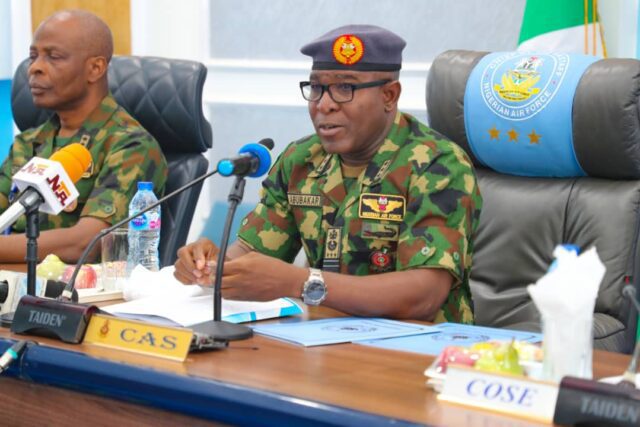 The Nigerian Air Force (NAF) is committed to enhancing its Safety Management Systems across all its units with special focus on operational and engineering units.
Chief of The Air Staff (CAS), Air Marshal Hasan Abubakar disclosed this while declaring open the year 2023 NAF Safety Review Board (SRB) meeting earlier today, 16 November 2023, at NAF Headquarters Abuja.
Read Also: Air Force wives seek more support, collaboration from NAF
Air Marshal Abubakar went on to note that safety management in the NAF is a major priority and core function in view of the technical and complex nature of assigned tasks and roles of the Service.
According to him, "The NAF is fully committed to developing, implementing and reviewing policies to ensure that NAF operations and other activities are conducted in a safe environment."
He also stated that his resolve to, 'Transform the NAF into an agile and resilient force that effectively meets the airpower demands of national security in all operational environment' can best be achieved with safety as the bedrock.
Read Also: NAF destroys 6 illegal refining sites, 5 Cotonou Boats in Rivers
Speaking further, the CAS reiterated his commitment to ensuring continuous improvement in safety standards through deliberate programmes aimed at enhancing flight safety as well as occupational and domestic safety in the NAF.
He equally used the opportunity to appreciate the commitment of the President Bola Ahmed Tinubu-led administration towards equipping the NAF with modern platforms in furtherance of efforts against terrorism, insurgency and other forms of criminality in various parts of the country.
He then went on to state that some of the platforms acquired by the Federal Government have arrived the country and will soon boost the NAF's combat capabilities as well as help in increasing its operational tempo hence the need for safety vigilance.
According to him, "We are aware that increase in operational tempo will lead to increase in hazards associated with our operations in line with ICAO's postulation that hazards are the by-products of production or operational activities."
Read Also: We Can't Afford to Let Nigerians Down, CAS Tells Commanders
He then called for a proactive management of safety in all units and commands and specifically directed operational units where newly acquire NAF aircraft would be domiciled to commence the process of aggressively identifying hazards associated with the arrival and operations of the new platforms and finding ways to manage the risks involved.
The CAS, who is also the Chairman of the NAF Safety Review Board further emphasized the need for field Commanders to ensure that the safety trainings translate to the development of positive safety culture, improvement in safety practices as well as creation of awareness that safety is the responsibility of all personnel.
"I expect us to redouble our commitment in this regard to ensure that as an organisation and as individuals, every NAF Unit and personnel have the responsibility to ensure that safety practices and standards are maintained in all activities," he noted.
Earlier, the NAF Chief of Standards and Evaluation, Air Vice Marshal Micheal Onyebashi noted that the SRB is designed to discuss and review issued related to safety policies and regulations as well as allocate resources for enhanced safety standards in the NAF.
He also revealed that the Board is expected to provide appropriate directives and guidelines that would ensure the entrenchment of a positive safety culture in the NAF.
Read Also: I'm impressed with level of teamwork, successes recorded, HMOD says as he visits HQ NAF
With the receipt of new platforms into the inventory of the NAF, Air Vice Marshal Onyebashi emphasized the need for enhanced safety standards in all operational units.
Air Commodore Edward Gabkwet Director of Public Relations and Information Nigerian Air Force said highlights of the meeting were a paper presentation on Safety Management System and Human Factors by Air Vice Marshal Gabriel Odesola (Rtd), review of NAF Safety Outlook and briefs by various Air Officers Commanding, amongst others.