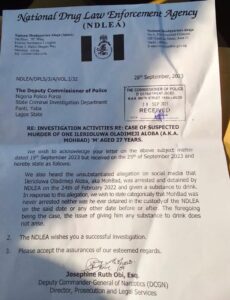 The National Drug Law Enforcement Agency NDLEA has said that following media enquiries on the claim by the Lagos state police command at a press conference on Friday that it was yet to get a response from the NDLEA on social media allegations bordering on alleged arrest and detention of the late artiste, Ilerioluwa Oladimeji Aloba, aka MohBad, the Agency will like to stated that indeed its response was sent and received by the police since Thursday 28th September 2023.
Femi Babafemi Director Media and Advocacy NDLEA Headquarters said to show the seriousness with which the Agency treated the issue, "our formal response dated Thursday 28th September 2023 was sent by flight to Lagos, delivered and received by the police same Thursday 28th September."
He said the summary of the Agency's response was reproduced below for the benefit of the inquiring public:
"We also heard the unsubstantiated allegation on social media that Ilerioluwa Oladimeji Aloba, aka MohBad, was arrested and detained by NDLEA on the 24th of February 2022 and given a substance to drink.
"In response to this allegation, we wish to state categorically that MohBad was never arrested neither was he ever detained in the custody of the NDLEA on the said date or any other date before or after.
"The foregoing being the case, the issue of giving him any substance to drink does not arise."