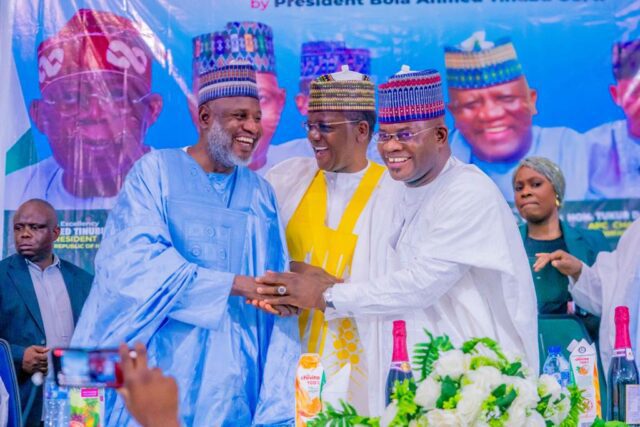 By Lawal Umar Maradun
At Abuja's Luxurious Nicon Hotel, Friends, former staff, family, and associates celebrated Hon. (Dr) Bello Mohammed Matawalle,  the newly appointed Minister of State for Defence, in a grand style during a special dinner event held in order to honour his swearing-in as a state minister in the esteemed cabinet of President Tinubu.
Read Also: PICTORIALS! NLC to Gov Matawalle: We're Delighted for Your Historical Quick Approval of N30,000 Minimum Wage
Prominent figures from across the length and breadth of the nation gathered to honor the zenith of His Excellency Matawalle's both political achievement and unity, which earned him the respect of all.
The entire atmosphere of that evening was a complete blend of jubilation, sharing of memories, camaraderie, and a whole reflection of the past struggle for the common man that was described as the hallmark of the optimism that culminated in his appointment.
The reflections were firmly believed to be credentials that will bring to the Ministry of Defence and the nation as a whole a new dawn of security and integration. Speaker after speaker addressed the mammoth gathering, expressing confidence in the capabilities of His Excellency, Matawalle in handling the daunting task that awaits them in the Ministry.
The sitting Executive Governor of Kogi State Alhaji Yahaya Bello in strong terms emphasized the importance of a strong and secure defense system for the nation's progress and stability, adding that "my friend here am sure is well equipped with the experience in wading the tide to succeed in the job". He commended the new Minister of State for his dedication, leadership, and vision, which have been instrumental in his rise to different significant positions in life.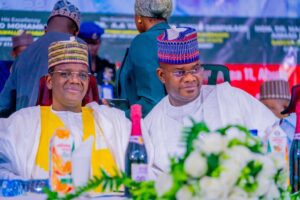 Governor Bello recalled with pride and passion how he, Matawalle, and Ex-Kaduna Governor Ahmed El-Rufa'i had struggled to wrestle the unpopular new naira redesign, the cashless policy that put the entire nation and its unsuspecting citizens in economic untold hardships and standstill.
Read Also: Governor Matawalle Participates in Virtual Meeting of NGF, Security, Top Agenda
Former Imo state Governor, Senator Rochas Okorocha expressed his optimism too in the capacity of Matawalle. Former First Executive Governor of Zamafara State Senator Ahmed Sani Yarima and former Executive Governors Mahmuda Aliyu Shinkafi and Senator Abdul'aziz Yari Abubakar (Yari ably represented by Hon. Mukhtar Idris Koguna) thanked almighty Allah for His blessings by choosing Matawalle from Zamfara State as Minister in the President Tinubu's Cabinet.
Other speakers included the former Executive Governor of Bauchi State Mallam Isah Yuguda, and former Defence Minister, General Mansur Muhammad Dan Ali (Rtd.), among other distinguished dignitaries.
His Excellency Matawalle, in his gracious remark, extended his heartfelt gratitude to almighty Allah for His blessings, friends and associates for their camaraderie, staff for their loyalty and hard work, the family for their love and prayers.
The new Minister specifically thanked President Tinubu for entrusting him with this crucial task in the government. He also emphasized his commitment to upholding the nation's security interests and promoting collaborative efforts within the Ministry of Defence to address evolving challenges effectively.
The special dinner also witnessed the presence of other esteemed dignitaries, members of parliament, and high-ranking officials, who all united in support of His Excellency Matawalle's mandate.
The event underscored the importance of unity and collective action in steering the nation toward a prosperous future. He promised that he and Cabinet Minister Muhammad Badaru will work jointly for a significant change in Nigeria's security landscape.
The Senator representing the Zamfara North senatorial zone, Senator Sahabi Ya'u Chaired the occasion and in a speech, offered a special prayer for the new minister's success.