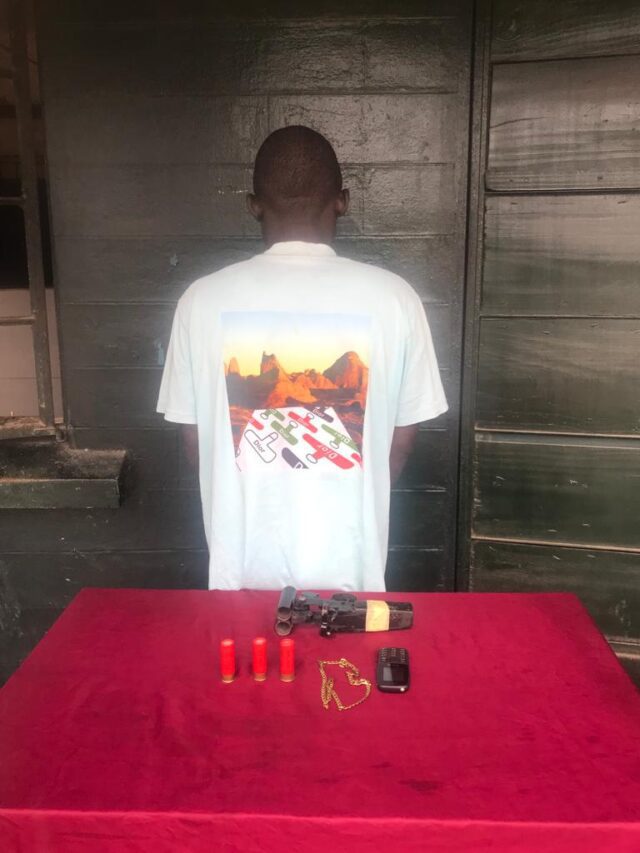 One Lucky Sunday, 25, who allegedly attacked a complaint, (name withheld) with a gun, cut his gold chain from his neck valued N700,000 and took to his heels at Sapele has been arrested by operatives of Delta State Police Command.
DSP Bright Edafe, Delta state Command Public Relations Officer made the disclosure in a statement issued on Wednesday.
Read Also: Police neutralize 3 armed robbery suspects in Delta
He said on the 25th June 2023 at about 2030hrs, the DPO Sapele division, CSP Harrison Nwabuisi received a distress call from a victim (name withheld) that at about 2030hrs the ugly incident occurred
He explained that the DPO Sapele division immediately alerted the patrol team deployed around that axis.
He maintained that they swung into action and arrested the suspect at Otumara village Jesse.
Read Also: Delta Police Arrest Child Trafficking Suspects, Rescue 30-year-old Victim
One cut-to-size double barrel locally made pistol, three life cartridges, one torch light phone, and the stolen gold chain were recovered from the suspect.
He further said investigation into the incident is ongoing.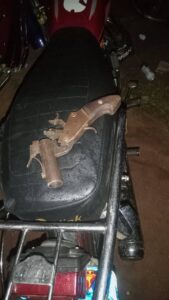 The PPRO stated that in an earlier development, on the same date at about 1523hrs, while police operatives from Sapele division were on visibility patrol around Sapele and environs, there heard some suspected cultists chanting 'ARO MATE'.
"The policemen swiftly moved to the area, where the suspects on sighting the police took to their heels, leaving behind a victim they were holding hostage with the intention to murder him.
Read Also: 6-man kidnap, robbery syndicate arrested in Delta
"The victim was rescued unhurt and reunited with his family, and one pump action gun was recovered."
He noted that investigation is ongoing.
DSP Edafe similarly said on the 26th June 2023, at about 0135hrs, the DPO Agbor division CSP Idris Haruna received a distress call of an ongoing armed robbery operation along Uromi Junction Agbor.
He revealed that the DPO CSP Idris Haruna Promptly responded, led operatives of the division to the scene where the hoodlums on sighting the police took to their heels and escaped into a nearby bush abandoning one cut to size locally fabricated gun, one expanded cartridge.
"The victims (names withheld) aged 41 years and 36yrs, both of Agbor community were rescued unhurt."
Read Also: Police arrest suspected kidnappers, cultists, armed robbers…Recover arms in Delta
"They stated that they were attacked on their way from Agbor-Obia area towards Uromi Junction Agbor.
He noted that exhibit in custody, investigation has commenced and effort is on to arrest the fleeing suspects.