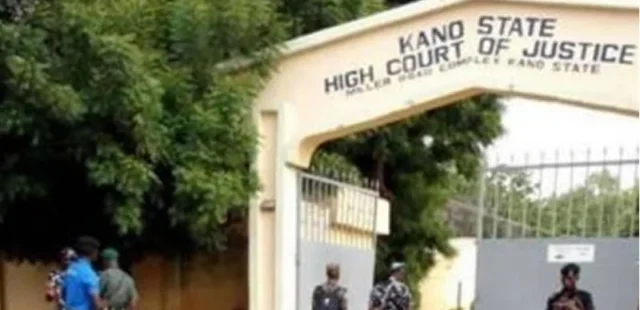 The legal representative of Alhaji Adamu Yahaya Maikifi, Barrister Sagir Suleiman Gezawa, has urged Hajiya Maryam Sani Abacha and her son Alhaji Muhammed Sani Abacha to respect the ruling of the Kano State High Court dated 6th June, 2023.
The court upheld that Alhaji Maikifi is the rightful owner of a property located at No 6, Gidado Road, Kano, covered by Certificate of Occupancy No LKN/RES/RC/82/679.
Speaking to journalists, Barrister Gezawa informed that the Deputy Sheriff of Kano State High Court has executed the court judgment, allowing his client to assume full legal ownership of the property.
Read Also: Army DSS Troops Avert Boko Haram Planned Attack on Kano Kano Joint Operations
He expressed concerns that recently, armed personnel surrounded the house and posted notices claiming that the property did not belong to Alhaji Maikifi, contrary to the court ruling.
Barrister Gezawa cautioned Hajiya Maryam Sani Abacha against disregarding the court judgment and assured that his client would not be intimidated.
He stated that anyone dissatisfied with the court's decision should seek legal recourse.
He emphasized that Alhaji Maikifi had already assumed ownership of the property following the court verdict.
Furthermore, Barrister Gezawa announced his intention to institute legal action against any person allegedly instructing military personnel to prevent Alhaji Maikifi from accessing his property.
Read Also: KCSC Approves Promotion of 231 Senior Officers
It should be recalled that Justice Usman Naabba of the Kano State High Court declared Alhaji Adamu Yahaya Maikifi as the rightful owner of the property at No 6A, Gidado road, Kano, covered by Certificate of Occupancy No. LKN/RES/RC/82/679.
The court granted an order of perpetual injunction, restraining the defendants from trespassing or interfering with Alhaji Maikifi's peaceful possession of the property.
The court also recognized the validity of the property's title and the sale agreement between Alhaji Maikifi and the heirs of Alhaji Abubakar Suleiman, dismissing the counter claim of the defendants.