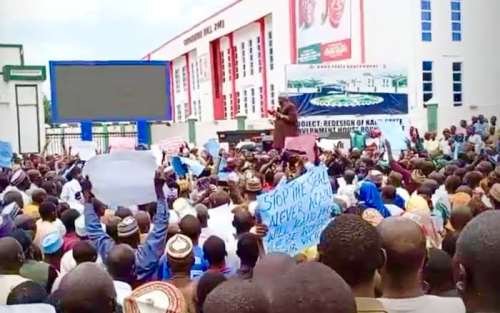 Despite ban on all protests in Kano State by the state's police command, hundreds of youths have taken to the streets in the city to protest against alleged attempts to bribe judges presiding over the Kano Election Petition Tribunal.
Recall that chairman of the 3-person panel,  Justice Flora Ngozi Azinge recently raised alarm over alleged attempts by an unnamed senior lawyer to bribe one of the tribunal's judges.
However, since the allegation became public, both the ruling NNPP and the opposition APC, the two contending political parties that are challenging each other at the tribunal have been trading blames.
The opposition APC is seeking to overturn the victory of Governor Abba Kabir Yusuf of the NNPP during the 2023 governorship election.
As the tribunal received the final written addresses of the two contending parties and reserved it's judgement, there is anxiety in the camp of the ruling NNPC, which believes that the APC and its candidate,  Nasir Yusuf Gawuna, are desperate to snatch their victory.
In order forestall breakdown of law and order due to the political tension in the state, the state's police command banned protests in all parts of the state.
But on Monday, a coalition of civil society groups under the aegis of Kano Civil Society Organisations and Northwest Anti corruption led a protest to the Kano Government House, where they submitted a letter to Governor Abba Kabir Yusuf expressing concern over the alleged tribunal bribery.
The protesters were led by Ambassador Ibrahim Wayya, chairman of the Kano Civil Society Forum.
In his remarks, Mr Wayya urged Governor Yusuf to forward the letter to President Bola Ahmed Tinubu.
Responding, the governor promised to forward the letter to the president, while also commending the demonstrators for their peaceful conduct.