The Kano State Governor, Alh Abba Kabir Yusuf has reiterated the readiness of his administration to partner with the Ghanian Government in the areas of health services delivery, infrastructure, education and human capital development for the benefit of citizens of Ghana and Kano.
Read Also: Photos: Kano Koroso Dancers exhibit enthralling performance at INAC Expo 2023
According to statement by Sunusi Bature Dawakin Tofa, Chief Press Secretary to the Kano State, the Governor, dropped the hint today when he received the Ghanian Deputy Minister of Health, Mr Mahama Ase Asesini who led a delegation of officials of the Ministry on a courtesy visit to the Governor at the Government house.
Alh Abba Kabir Yusuf said Ghanaians and people of Kano had so many similarities in terms of culture, religion, custome, inter-marriages and trades of large volume that could be dated back to decades and advocated for the consolidation of the established bond of relationships.
Read: KNSG to Constitutes Admission Drive Committee
Governor Abba used the opportunity to informed the minister some of the achievements his government made in rejuvenating the health sector, saying " we are working assiduously in improving the services of the health facilities as we restored free maternity care to pregnant women and children.
We also embarked on the renovations of our general hospitals and plans are on the pipeline to re-introduce the mobile clinics in the fourty four local government areas of the state that will go along way with our drive of training and re-training of health personnel across all cadres and absorption of female medical graduates to add more vigour to the health machinery." Explained the Governor.
Read Also:KNSG urges residents of Nassarawa GRA to trim down grasses
Earlier, DSlsputy Health Minister, Republic of Ghana, Mr Mahama Ase Asesini said that he led the officials of the Ghana's Health Ministry to the Governor part of their engagement in Nigeria to chart ways for symbiotic relationship and prosperous development.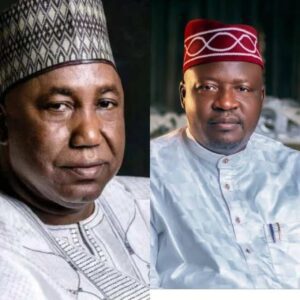 Mr Mahama Ase assured of follow-up meetings, discussions and deliberation to consolidate2 on the agreed areas of working together.