The Kano State acting Chief Judge, Justice Dije Aboki, has stressed the significance of speedy trial, not only in corruption cases but in all other cases, particularly, criminal cases where most of the inmates spend years in detention.
Justice Aboki made the assertion at the Debate on the Unconstitutionality of Section 396 (7) of the Adminstration of Criminal Justice Act ( ACJA), Matters Arising; Implication for Speedy Dispensation of Corruption Cases, Organised by International Federation of Women Lawyers, FIDA Nigeria in collaboration with Mac Arthur Foundation, held at NBA Secretariat, Kano
Read Also: Nuraddeen Sagir Umar: Vista of a Judicial Icon
The Kano Acting Chief Judge, who was represented by Justice Maryam Sabo, Mni said the workshop provided an avenue to share experience and way forward on the Unconstitutionality of section 396 (7) of the ACJA, 2015.
She also said it is indeed well known that the essence of ACJA, 2015 was to ensure amongst others speedy trial and quick disposal of criminal cases, corruption cases inclusive, in the interest of justice and as of the right of a suspect, the defendant, the victim and and the larger society in general.
Grand Khadi Tijjani Yusuf Yakasai: An 'Expose' of a Sharia Icon
The Jurist, qouted sections 1 and 3 of the ACJL 2015, Kano, noting that these provisions of the law are in tandem and pari materia with the provisions of section 35 and 36 of the constitution of Federal Republic of Nigeria 1999 as amended.
She continued that "For the law courts in this country to discharge its constitutional duty and responsibilities efficiently within a responsible time, (within 2 months if the defendant is in custody or 3 months if on bail) not only in corruption cases but in all other cases as well."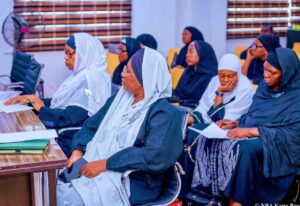 "However, in practice it is not without some challenges and proves to be a bit difficult but there is nothing that is not unsurmountable. The phrase 'Reasonable term' is subject being appraised for the parties in a case to see that from the period of arraignment to final disposal of a case in such a time considered reasonable and gives hope not only to victim and the society but also to repose public confidence in all criminal cases and the judicial system."
"Hence the need for section 396 (1) ACJA for day to day trial, subs 7 provides that for a Judge who has been elevated to court of Appeal to sit as high court judge for any part heard matter pending before him at the time of his elevation and shall continue within a reasonable time, these provisions are meant to ensure speedy trial, however, from the galore of authorities of the Supreme Court subs 7 has no constitutional backing, See the celebrated case of Chief Uzor Kalu V. FRN & 2 Others (SC.215/2012,  (2016)," she also said.
Read Also: NUJ to Partner FIDA Over SGBV
Justice Dije Aboki revealed that the Supreme Court Judge held that a judge who has been elevated cannot preside over a case he was handling before elevation, stated that as such many corruption cases were turned down.
According to her, the decision showed the unconstitutionality of the provision of 396( 7) not only in corruption matters but in other criminal cases.
She pointed out that " In my humble view at this interactive gathering of learned people that there has to be a reasonable balance between the constitutional right of fair hearing of a defendant in respect of very serious cases and power of the prosecution to have the cases heard expeditiously.
"While justice delayed is Justice denied, justice rushed is also justice crushed, corruption cases no doubt are becoming more alarming and destroying the potentials and the development of the court."
She further stressed the need for such kind of seminars to find the way forward toward enhancing the Administration of Criminal Justice system in Kano and Nigeria as a whole.
Justice Aboki enjoined judges, to take full charge and total control of their respective courts, adding that cases not expected to stay long, should be disposed timeously to repose public confidence.
She affirmed that one of the beauty aspect of ACJL is abolishment of stay of proceedings in criminal cases.
She emphasized that day to day trial as per the provision of section 396(1) ACJA will really assist provided there is the manpower and facilities, assuring that Kano Judiciary will do its best toward having speedy trial of corruption cases.
Earlier in her speech, the Chairperson of FIDA, Kano Branch Barr. Bilkisu Ibrahim Suleiman who welcomed the participants enjoined all to be instrumental in the fight against corruption, she added that there was the need to enhance the criminal justice procedure to improve the speedy dispensation for corruption cases in Kano and Nigeria as a whole.
Read Also: Ganduje appoints, swears-in Ag. chief judge
Simirlarly in her speech, the Program Officer of FIDA, Fatima Ahmad maintained that Kano amongst 5 other states including the FCT is carrying out this activity to provide a platform for criminal justice actors to explore practical solutions for speedy dispensation of corruption cases as well as examining challenges, implications and practical solutions of the Supreme court decision in Ude Udeagwu V FRN.
She further maintained that the activity aims to develop a policy statement which will serve as an advocacy tool to key relevant stakeholders.