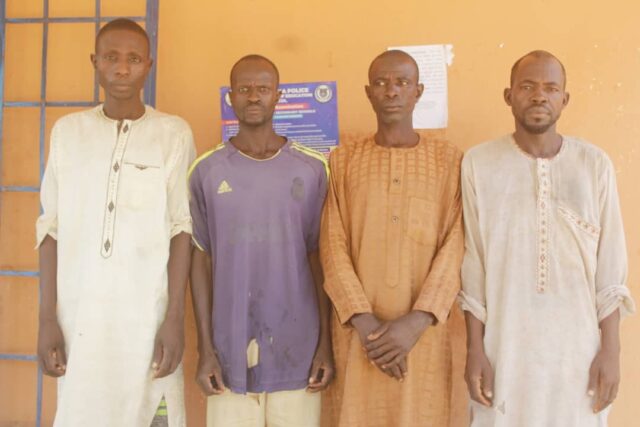 By Hassan Turaki
Operatives of the Jigawa State Command of Nigeria Police have foiled kidnapping attempt at Badungu village in Bamaina town in Birnin Kudu LGA.
DSP Lawan Shiisu Adam made this known in a statement issued, Saturday
He said on 26th Aug. 2023 at about 0200hrs, report at command's disposal revealed that armed men on their motorcycles numbering about seven (7) invaded Badungu village in Bamaina town and kidnapped one Alhaji Idi Nagidoji 'm' age 70yrs and one Alhaji Usman Danbaba 'm' age 50yrs all of Badungu village, B/ Kudu LGA to an unknown destination.
He also said "on receipt of the information, a team of Policemen in collaboration with Yan Bulala rushed to the scene and pursued the kidnappers into the bush."
He explained that when the kidnappers discovered that, Police were pursuing them, they relinquished the two (2) kidnapped victims and escaped to dodge arrest or neutralize them.
He further explained that rescuers have been reunited with their families in good condition of health.
Consequently, he added that on 4th August 2023, a compliant letter was received from one Haruna Sani 'm' of Sabon Garin Maiyadiya Jahun LGA to the Commissioner of Police Jigawa State Command, CP Effiom Emmanuel Ekot, that he received a phone call from an obscure person threatening and demanding five million Naira (N5,000,000.00k) from him, or him and his mother will be kidnapped.
Read Also: Police Arrest Cable Vandals, Animal Rustlers, Others in Jigawa
DSP Shiisu stated that on receipt of the complaint, the Commissioner of Police directs the Anti-Kidnapping Section, State Criminal Investigation Department Dutse (SCID) to investigate the case and come up with cheerful developments, noting that detectives launched a manhunt for possible arrest of the hooligans.
According to him, fortunately, on the 21st of August 2023, one Sabiu Ibrahim 'm' age 27yrs of Sabon Garin Maiyadiya village, Jahun LGA was arrested in connection with the case.
He revealed that on investigation, the suspect admitted to the commission of the offence and belonged to the kidnap syndicate that called the complainant.
He further mentioned his cohorts, one Abubakar Shuaibu alias Soda 'm' age 35yrs, Samaila Salihu 'm' age 45yrs, and Saadu Iliyasu 'm' age 46yrs, all of Sabon Garin Maiyadiya village Jahun LGA, who was also arrested on 23rd of August 2023 at Adamawa State.
DSP Lawan assured that effort to arrest the remaining suspect is in top gear.
"In addition, on 23rd Aug. 2023 at about 1430hrs, following a tip-off, a raid was enforced at criminal hideouts along Kofar Bakin Kasuwa, Hadejia metropolitan by policemen attached to Hadejia 'A' Division.
"During the raid, one Isa Usman 'm' age 55yrs of Gandun Sarki quarters was caught in possession of two and a half blocks of dry leaves suspected to be Indian Hemp inside a black polythene bag." He further stated.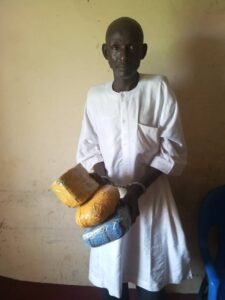 He similarly stated that when questioned, the suspect disclosed that he bought the same from one Uzairu 'm' of Koran Shehu village of Taura LGA at the rate of eighteen thousand five hundred naira (N18,500.00k) and will peddle it to his clients.
"In addition, on 21st Aug, 2023 at about 1330hrs one Angelina Ahmadu 'f' of Yalwawa quarters Dutse LGA, reported at Dutse Police station that, on the same date at about 1000hrs, unknown thieves transcended through the door of her house and stole the following items; one Mattress, two (2) pairs of cover shoe, two gas cylinder, amounting to the total of one hundred and twenty-seven thousand Naira (N127,000.00k)."
Read Also: Jigawa AG Seeks Media Support On Functions Of Justice Ministry
"On receipt of the report, the DPO made further efforts, and one Yusuf Ibrahim AKA Balatoli 'm' 21yrs and one Anas Saleh 'm' age 23yrs all of Gida Dubu Quarters, Dutse LGA, were arrested in possession of all the stolen items.
"On interrogation, the suspects conceded to the commission of the offence." He further stated"
He also explained that in another development, on 20th Aug. 2023 at about 1813hrs, one Anas Yaro 'm' of Yalo village Kaugama LGA reported at Hadejia 'A' Division that, about two months ago, unidentified persons stormed into his house, broke his door's shop and made away with his motorcycle Boxer red in colour valued at five hundred and twenty thousand (N520,000.00k).
The Jigawa PPRO pointed out that on 19th Aug. 2023 one Mohammed Ali 'm' age 43yrs Sagawa village Miga LGA was arrested in possession of the said motorcycle at Hadejia LGA, by Policemen on surveillance.
He maintained that on investigation, the suspect was divulged to the commission of the offence.
He assured that all suspects arrested will be arraigned before the court of justice to face the full wrath of the law upon completion of the investigation at SCID Dutse.
He however said, the Commissioner of Police, Jigawa State Police Command, CP Effiom Emmanuel Ekot commended the Officers and men of the command for their job weldon and cautioned them not to relent in their efforts to ensure that, the good people of Jigawa sleep with their two eyes closed.
He also directed DPOs to sustain raids at all black spots and criminal hideouts in their Area of Responsibility to clamp down on any crooked elements after gathering intelligence.
Read Also: NSCDC Arrests Suspected Cattle Rustlers in Jigawa
He further called citizens to avail Police of credible and actionable information within their localities without any phobia.
He promised that their identity would not be disclosed to anyone.