In a bid to provide clean, safe, and affordable drinking water, Korbit, a leading water company, has launched its new Korbit Dispenser Bottle with an automatic electric water pump.
The chairman of the company, Alhaji Garba Ahmed Ibrahim, made the announcement, highlighting the convenience and accessibility of this innovative product.
The Korbit Dispenser Bottle offers a rechargeable automatic electric water pump, ensuring hassle-free dispensing of water.
Read Also: Kano CP Visits State Acting CJ…Seeks Synergy
With this product, customers can enjoy the benefits of clean drinking water at their convenience.
The company has made it easy for customers to obtain the Korbit Dispenser Bottle by making it available at their depots and major supermarkets across the country, including Sahad Store, Best Medix, Sadaraki, DanAljanna, Jujin Labbu, and more.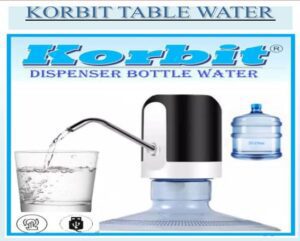 To make a purchase, customers can either visit these locations or contact the company directly through the provided phone numbers: 08123172526, 08166665444, or 08096233122.
Korbit takes pride in its commitment to quality and safety. The company utilizes the latest modern technology to ensure that their water undergoes rigorous purification processes, including reverse osmosis, resulting in a hygienic and pure final product.
Read Also: 2 Qatar-based drug lords arrested as NDLEA intercepts their meth consignment at MMIAKorbit water is known for its soft and smooth texture, combined with well-balanced mineral content, providing customers with a refreshing and satisfying drinking experience.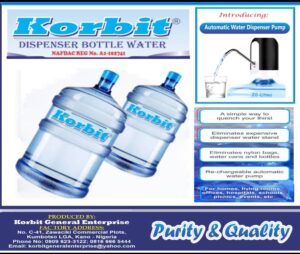 One of the key advantages of choosing Korbit Table Water is its ability to maintain the integrity of flavors in food and beverages. When preparing special diets or enjoying a cup of tea, the purity of Korbit Table Water ensures that there are no unwanted impurities that could compromise the taste. With every sip, customers can taste the exceptional quality and purity that sets Korbit water apart.
Read Also: Nigeria, India agree to block pipeline of illicit drug flow as NDLEA, NCB sign MoU
In a world where access to clean water is crucial, Korbit is dedicated to delivering a reliable and affordable solution. The launch of the Korbit Dispenser Bottle with Automatic Electric Pump reaffirms the company's commitment to providing clean and safe drinking water for all.