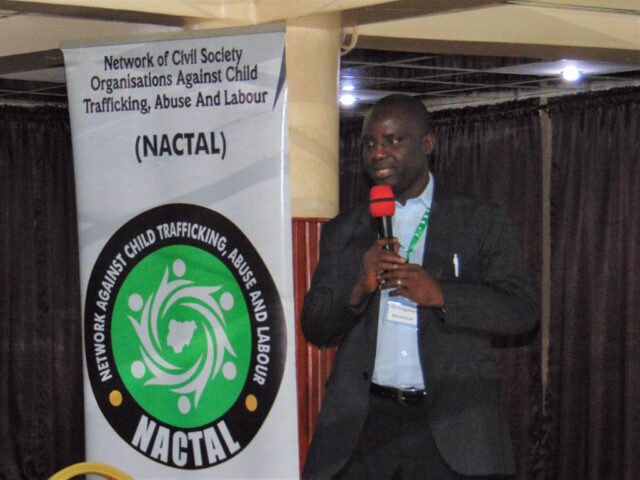 By Abdulganiy Abubakar
Human trafficking is a global reality and a gross human rights violation. It is a crime that deceitfully exploits people including women, girls, youths and children.
According to the United Nations, human trafficking or trafficking in persons affects every country in the world which requires concerted efforts by all stakeholders to combating it.
Trafficking involves recruiting and transporting people into a situation of exploitation due to their vulnerability such as a result of unemployment, homelessness, illiteracy among others. Victims/Survivours of human trafficking are often face different forms of exploitations which include forced/child labour, forced marriage, prostitution and organ harvest.
It is estimated that annually there are between 20 million and 40 million people who are in modern slavery globally.
Human trafficking earns estimated profits of $150 billion annually for traffickers, with $99 billion from commercial sexual exploitation. Also, an estimated 71% of human trafficking are women and girls while men and boys account for 29%. Source: UN report on human trafficking.
In Nigeria, human trafficking affects all the 36 states including the FCT. Although, it is difficult to establish the prevalence of human trafficking in Nigeria due to dearth of data, however, the National Agency for the Prohibition of Trafficking in Persons (NAPTIP) stated that seventy-five (75%) percent of those who are trafficked within Nigeria are trafficked across states, while 23% are trafficked within states. Only 2% of those trafficked, are trafficked outside the country.
According to a publication on Wikipedia in February 2020, the police managed to rescued 232 sex trafficking victims and forced labour in a major operation in Niamey.
Many of our youths particularly women and girls have continued to be trafficked within and outside the country with some of them been seen on social media calling the government and the Nigerian people to come to their aid.
The government spend huge amount of money to rescue them from their host country back to Nigeria where huge amount is also expended on rehabilitation and empowerment of the survivours.
Nigeria is a source, transit, and destination state for women and children subjected to trafficking in persons including forced labour, sexual exploitation and forced prostitution.
While trafficking affects every part of the state reported cases show that women and girls are mostly trafficked within and outside Nigeria particularly for involuntary domestic servitude, sexual exploitation, forced prostitution and street vending among others.
It is sad that poverty among many other factors including youth employment, lack of educational and economic opportunities, displacement, and ignorance have continued predispose thousands women and girls including the Youths to falling victims of traffickers who capitalized on their vulnerability to recruit, transfer and harbor them for the purpose of exploitation.
Thus, it very urgent we mobilize all the critical stakeholders in the country including religious leaders, traditional rulers, community influencers, opinion leaders, youth leader, women groups, the organized private sector and other Civil Society Organization to support the efforts of government in ending human trafficking in Nigeria by empowering the poor and vulnerable families in their various localities.
As the EU Anti-trafficking Day is being commemorated, NACTAL Nigeria remain committed to supporting NAPTIP and the Government of Nigeria in the fight against human trafficking.
Abdulganiyu Abubakar, National President, Network Against Child Trafficking, Abuse and Labour, (NACTAL), Nigeria. Writes  In Commemoration of EU Anti Trafficking Day 2022