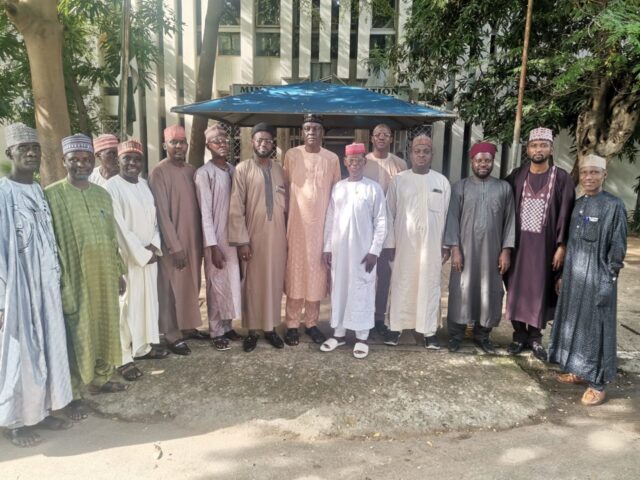 The Kano State Government has stated its plans to support all media houses operating in the state with a fund, under its programme tagged Media Support Programme to cushion the effect of economic hardship bedeviling the country.
The Kano State Commissioner of Information, Baba Halilu Dantiye made the disclosure when he received the Executive Members, Kano Council, Nigeria Union of Journalists, NUJ, on courtesy visit, led by its Chairman, Comrade Abbas Ibrahim.
He said the programme is imperative, considering the contributions of media houses in the area of job creation to teeming Kano Youths.
He further said the programme will provide solace to the media houses in line with the current economic reality.
The Commissioner in addition, stated that the Kano State government will provide enabling environment for all working journalists in the state, stressing that the ministry under his watch as professional with over four decades experiences
will ensure easy access of information to all working journalists.
He said his door is always open for journalists, seeking for more support from the media for him to succeed.
"I want to your cooperation, my appointment as Commissioner of Information is maintaining the culture of professionalism, my predecessor is a seasoned and professional Journalist, we want this tradition to be maintained that only Professional Journalists would be appointed as Commissioner of Information, like the Ministry For Justice and Health only medical doctor or lawyer appointed as Commissioner in the Ministries."
READ ALSO: Kano Police Command awards NUJ for objective crime reportage
"We will carry everybody along from Electronic, Broadcast, and online media platforms,
"We will organize training for social media influencers, such as Facebook, Tiktokers and political parties media supporters"
Baba Dantiye, revealed that the state government will also provide modern facilities in Kano State owned media organizations such as Abubakar Rimi Television, Kano State Radio Corporation and Triumph Publishing Company to compete with their peers in Information gathering and dissemination.
READ ALSO: Phone Robbers: NUJ applauds KNSG over formation of mobile courts
He emphasized that journalism is a noble profession, urging journalists to conduct their responsibilities within the confine of law and code of ethics for Nigerian Journalists to avoid misinformation, disinformation, mischief making, blackmail, defamation of character that lead to litigation.
Read Also: Kano NUJ Rejoices With Ex- NGE President, Dantiye, on Appointment as Information Commissioner
The Commissioner further emphasized that the government will support journalists for training and retraining to conduct their primary responsibility professionally.
He applauded the Kano Exco of the Union for the visit.
Earlier in his speech, the Chairman Kano State Council of Nigeria Journalists, Comrade Abbas Ibrahim said the Council was at the Commissioner's office for courtesy and to congratulate him over his appointment as Commissioner of Information.
He said the Commissioner need not to be told about NUJ because he was in the union struggle many years when many of the Journalists were toddlers.
The Chairman urged the commissioner to ensure easy access of Information to all working journalists to further simplify their job.