By Abubakar Abdullahi
The Gombe state command has paraded suspects over alleged criminal activities bordering on criminal conspiracy, cheating, and being in possession of human bones.
ASP Mahid Muazu Abubakar, Gombe Command Public Relations Officer, made this known in a press briefing.
READ ALSO: Culpable Homicide: Police Arrest Sara-suka Syndicate, Phone Snatchers in Bauchi
He identified the suspects as Alhaji Auwal Abbas and Ibrahim Adamu.
He further said on the 29th May, 2023 at about 1100hrs, one Yusuf Haladu 'and his friend one Isa Musa 'all of bali LGA of Taraba State came to Gombe State with the intent to meet one Alhaji Auwal of Gombe who is now at large, through one of their friend Abbas that the said Alhaji will pray for them to see more success in their businesses.
Read Also: Gombe Police Arrest 11 Suspects over alleged Thuggery
He explained that the said Auwal collected the sum of N650,000 from the complainant.
ASP Mahid revealed that after sometime, the complainants having seen no improvement in their bussinesses demanded for their money back, then the said Auwal gave one Ibrahim Adamu ' 65yrs old of Dukku human parts to put in their properties.
Read Also: Intelligence: Police recover arms, ammunition in Bauchi
During investigation, one Ibrahim Adamu 'm' of Bagadaza Quarters was also arrested at Auwal house with some traditional charms some sands from grave, one white cloth which they used for their devilish work.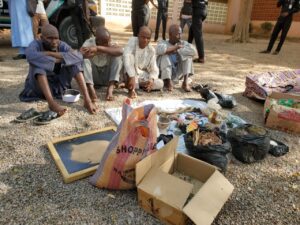 Explained that effort is being intensified to arrest the fleing suspects, while investigation is still on going.
According to him, while the other two cases from divisional police headquarters where one suspect arrested for an attempt to steal motorcycle at specialist hospital Gombe and attempted to remove motorcycle belongings to another person using master key.
Read Also: Police arrest 2 armed robbery suspects in Gombe
"Other suspect who is Also arrested by detective from Gombe divisional headquarters, they arrested in possession of some goods from some one shop.
According to the PPRO the suspects will bencharged to court upon conclusion of the investigation.
He advised the general public to be vigilant and report to security agencies any suspicious movement of strange individual or group of persons.