The Kano Security and Development Forum (KSDF), a non-governmental organization, has called on the Kano State Government to address the socio- economic challenges faced by 10,800 workers dismissed from the state civil service.
Read Also:;Breaking: Court Restrains Police, Others from Harassing, Arresting Ganduje, Associates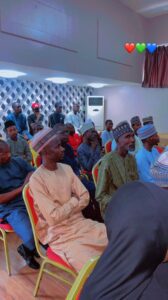 The KSDF Chairman, Comrade A A Haruna Ayagi, who made the call at stakeholders meeting on Saturday in Kano appealed on the NNPP led administration to reconsider the plight of the affected staff and provide necessary support.
While commending the Government effort towards sanitizing the civil service in the state, Comrade Ayagi emphasized the need for the government to reconsider the plight of the affected staff and provide necessary support.
Comrade Ayagi said "These workers have had their salaries suspended until their employment is verified, these can grossly affected their socio-economic well being,"
He advised the state government to think outside the box toward improving, socio economic well being of its citizens rather than bringing back the issues that were legally and administratively treated by immediate past government in accordance with the law.
"Our main aim is to ensure Kano developed in every sector of political, economic and social. Bringing back the past incidencies, may cause possible breach of peace and security and tranquility of the state"
The Chairman of the NGO, Ayagi, further called on Kano Government to avoid making any action on issues pending before the court.
He also called on the government to respect the sanctity of the court as last hope of the common man.
Read Also: BREAKING: Kano Loses Ex-High Court Judge, Sadik
Ayagi pointed out that is not allowed in law to comment or interfere with any issues pending before the court.
He makes reference with section 16 of the Kano State Public Complaints and Anti-Corruption Commission and other section of the Constitution of Federal Republic of Nigeria 1999 as which prohibit any person from making commentary or interfere in any issue pending before the court,"
Read Also: Resident secures court order restraining Kano govt from demolishing buildings
He urged public to remain calm and law abiding to enable the state developed.
He added that KSDF is a group of NGOs established to assist the Police and other security agencies to have intelligence towards improving peace, unity and security in the state"
Haruna Ayagi tasked the general public and traditional rulers to join hands with the KSDF to improve peace, security and development.