The Kano State Fire Service has said that, on Tuesday Evening, a devastating fire engulfed Kano Popularly Garden Park, Falamanki and three other restaurants within the Park, located at Audu Bako Way before reaching Central Hotel Roundabout, in the state Metropolis.
PFS Saminu Yusuf Abdullahi, the Kano State Service Public Relations Officer, made this known on Wednesday.
Read Also: Kano Fire Service Records 8 Fatalities, Rescues 20 Victims in October Disasters
He said the tragedy occurred at approximately 13:16 hrs.
He further said the affected areas inside the Park were identified as Falamanki Park, Amala Dinner and More, Lavida Restaurant, and KGC Restaurant.
He stated that the Kano State Fire Service received an emergency call regarding the outbreak from its staff Yusuf Musa Mazadu.
Read Also: Kano Fire Service saves 1,035 lives, N905m property
Abdullahi maintained that promptly responding to the tragedy, multiple fire teams were dispatched from various fire stations in the state, including the Central fire station.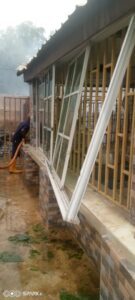 "They arrived at the scene around 13:25 hrs. The team discovered that the fire had engulfed four joint parks, covering an area of about 200 X 300 ft.
The  Public Relations Officer pointed out that the affected structures within the park include:
– Falamanki Park: One temporary shed fully engulfed in flames, while two shelters were slightly affected.
– Amala Dinner and More: One improvised parlour, one kitchen, one store, and two temporary shelters were fully engulfed, with slight damage to the reception area.
– LaVida Restaurant: One improvised parlour, one kitchen, and temporary shelters were fully engulfed.
– KGC Restaurant: Two improvised parlours, one kitchen, one store, one tea shop, and a car wash were fully engulfed." He further explained.
Read Also: Disasters: 23 Perished in April – Kano Fire Service
He revealed that the cause of the fire outbreak was determined to be an electric spark originating from the kitchen, with the fire initially starting from KGC Restaurant.
He added that to combat the blaze, six jets were employed from various fire stations, including com1, com1b Central, com2 Bompai, com13 Audi Bako Sectariat, com14 Govt. House, and com29 Tower Fire Station.
He stressed the readiness of the  firefighting teams aimed at extinguishing the flames and preventing further damage.
Abdullahi explained that Authorities will continue to investigate the incident to ensure necessary safety measures are undertaken.