The Ember Months Special Operation Team, deployed by Delta State Police Commissioner, CP Wale Abass has recorded significant achievements in the ongoing fight against crime and criminality in Delta State.
DSP Bright Edafe Police Public Relations Officer made this known in a statement.
Read Also: Delta Police Begin Investigation into Alleged Defilement of 4-Year-Old Child
He said their recent operations have resulted in the arrest of six suspected armed robbers and the recovery of three English-made pistols and three locally made guns.
He also said the Ember Months special operations team consists of various tactical formations, including the RRS, Raiders, CP-Decoy, Eagle Net, Safer Highway, Safe Delta, Special Anti-Kidnapping, Cybercrime Squad, Crack Squad, CP monitoring, and CP X-squad.
"Under the leadership of their respective commanders and the guidance of the DPOs of each division, the team has been conducting intensive stop and search operations across the state.
"This collaborative effort, along with strict supervision and monitoring, has significantly contributed to the peace enjoyed in the state."
He pointed out that one notable success was achieved on the 24th of October, around 21:20 hrs, when a team led by SP Inyere Elias Chinedu was on a night patrol along the Asaba-Benin Expressway near Rain Oil Filing Station.
Read Also: Delta Police Arrest 3 Suspected Kidnappers, Recover Cache of Weapons, Explosives
He maintained that the team intercepted a commercial shuttle bus with four male passengers.
He noted that during a search of the bus, they discovered an English-made Beretta pistol and a dagger in the possession of one of the passengers, identified as Ishiaku Ya'u.
"The suspect and the recovered items are now in custody, and investigations are underway to apprehend other members of his gang and recover additional weapons."
Similarly he explained that þon the 22nd of October, at approximately 21:20 hrs, the Ember Months patrol team under sector 'C' conducted a stop and search operation along the Asaba-Benin Expressway.
Read Also: Delta Police Provide Updates on Achievements from July 2023 to Date
He continued that They intercepted a shuttle bus with two male passengers and discovered a locally made cut-to-size gun and two live cartridges in their possession.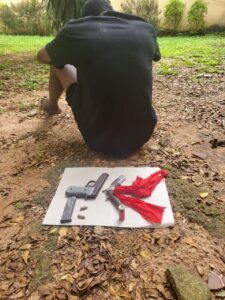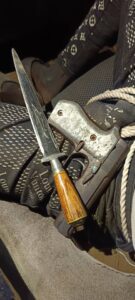 "The suspects were promptly arrested and have since been charged to court."
"So far, the Delta State Police Command has arrested a total of six suspected armed robbers, some of whom have already been charged to court."
"In addition, two English-made pistols and four locally made guns have been recovered."
Read Also: Delta Police Begin Investigation into Alleged Defilement of 4-Year-Old Child
He added that CP Wale Abass, the Commissioner of Police, reassured the public that the safety of lives and properties remains the primary duty of the police.