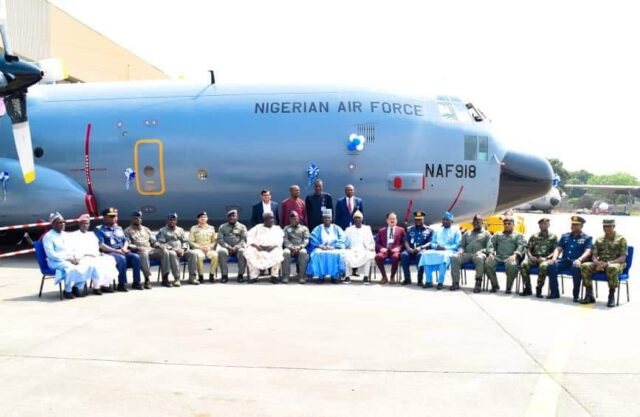 The Minister of Defence, Major General Bashir Salihi Magashi (rtd), has commended the Nigerian Air Force (NAF) for its readiness to support the Independent National Electoral Commission (INEC) to airlift its staff and logistics before, during and after the 2023 general elections.
The Defence Minister gave the commendation during the roll-out ceremony of C-130 Hercules aircraft (NAF918), held on Wednesday 25 January 2023 at the 631 Aircraft Maintenance Depot, NAF, Ikeja, Lagos.
Read Also: Again, Buhari's Aide Bashir Ahmad Loses As Appeal Court upholds Gaya's Victory
Maj Gen Magashi who was represented by the Permanent Secretary, Ministry of Defence, Dr Ibrahim Abubakar Kana, said he was pleased to recognize NAF's preparations towards the forthcoming elections. This, he said was exemplified by the timely completion of the in-country Periodic Depot Maintenance (PDM) of the NAF C-130H aircraft to boost its airlift capacity to support INEC.
The Defence Minister congratulated the NAF for the technical breakthrough, noting that it further demonstrates the Service quest for capacity development and self-reliance in equipment maintenance.
He added that the achievement is an indication that the Armed Forces of Nigeria (AFN) has enormous potentials for technical capacity development in- country ventures.
Read Also: Just In: Court Dismisses PDP, Barde's Case Against Governor Inuwa
The Minister extolled the NAF immense contributions in combating terrorism, insurgency and other forms of security threats in the country as well as its non-kinetic campaigns in various theatres of operation.
He reiterated Federal Government's commitment to the welfare and capacity development of the AFN in order for them to effectively perform their constitutional roles of defending the nation against adversaries and criminal elements.
He further disclosed that Government has placed orders for the acquisition of airlift, intelligence, surveillance and reconnaissance aircraft as well as ground attack, advanced jet training and combat multi-role helicopters for the NAF. These additional platforms, he said would further boost the Service operational capabilities.
He urged NAF personnel to remain loyal and committed as well as ensure safe operations and maintenance of the Service platforms.
In his remarks, the Chief of the Air Staff (CAS), Air Marshal Oladayo Amao stated that the roll-out ceremony of the C-130H aircraft resonates with his vision to enhance and sustain NAF critical airpower capabilities required for joint force employment in pursuit of national security imperatives.
According to him, "the platform could not have been reactivated at a better time, as the NAF is now better positioned to support INEC to airlift electoral staff and logistics in the forthcoming general elections. It is on this note that we welcome NAF 918 back to operational readiness to achieve its logistics assignment," the CAS stressed.
Read Also: FULL LIST: NJC Recommends Appointment Of 84 Judges, 9 Heads Of Courts
He further remarked that in-country periodic maintenance has improved NAF aircraft serviceability as well as significantly reduced maintenance cost of carrying out such maintenance overseas, while conserving foreign exchange for the country.
Air Marshal Amao averred that the NAF aircraft maintenance engineers and technicians involved in the PDM project are more exposed to the requisite expertise and high quality maintenance practices.
He revealed that the aircraft have been test-flown by NAF pilots who confirmed that the engines, instruments and avionics parameters are within standard safety limits.
Read Also: Court Fixes Date to Deliver Judgement in Suit by Asiya Ganduje Seeking for Divorce
He maintained that the NAF C-130 fleet have since fulfilled troops and logistics airlift roles in several combat and humanitarian operations within and outside the shores of Nigeria.
He assured that deliberate efforts are being made to improve aircraft serviceability across all the aircraft fleets in the NAF, adding that the welfare and safety training of pilots, engineers and technicians is receiving attention in order to ensure that the aircraft are operated optimally.
Earlier in his welcome address, the Air Officer Commanding (AOC) Logistics Command, Air Vice Marshal (AVM) Emmanuel Shobande described PDM as series of in-depth maintenance activities which is carried out on a aircraft within an interval to extend the life span as well as enhancing the operational safety and effectiveness of the aircraft.
The AOC revealed that NAF C-130H undergoes PDM every 4 years where extensive disassembly, inspections, change of some components, overhauling and reassembling amongst others.
AVM Shobande further disclosed that the PDM was jointly conducted and completed by NAF aircraft engineers and technicians in partnership with Shaheen Foundation, a reputable maintenance repair organisation certified by Lockheed Martin, the Original Equipment Manufacturer of C-130H aircraft.