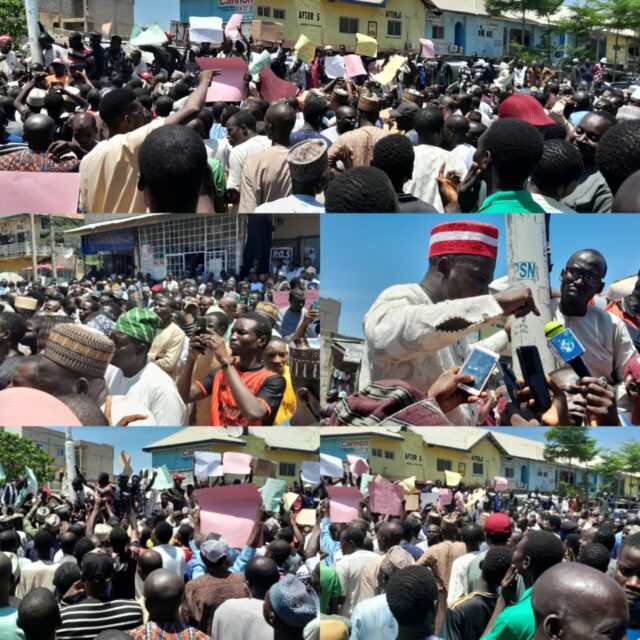 National Association of Patent and Proprietary Medicine Dealers, Kano State Branch has called on the Pharmacy Council of Nigeria to abide by the court order issued by Kano High court which restrained them from forcing Members of Kano Medicine Dealers to relocate to Dangwauro Market for sales of drugs.
Salisu Tijjani Datti, National Assistant Secretary General (NAPPMED) made the plea while briefing Journalists shortly after a peaceful protest conducted by Members of the Kano Branch of the Patent Dealers in Kano.
Read Also: Interim Order: Court restrains KUST from appointing Dr Ibrahim as Registrar
He said the PCN served them with notice to relocate from their shops located at Sabon Gari Market and Dangwauro Market despite the court order restraining them from any action pending the hearing and determination of the suit.
He called on Kano State Governor Engr Abba Kabir Yusuf and all key relevant stakeholders to intervene to come to their aid.
Tijjani expressed fear of losing their bussiness, if PCN insisted they should located to Dangwauro Market stressing that the market is still not completed.
Read Also: Police In Kaduna Warns Protesters Against Violating Due Process
The National Assistant Secretary, PCN said Members of the Association are ready to abide by all rule and regulations governing the conduct of Patent and Medicine selling in shops.
He urged PCN to allow court to decide rather than taking law into own hand.
Earlier in his speech, while addressing Kano Members of the NAPPMED, the Acting Chairman of the Association, Musbahu Yahaya Khalid said the action of PCN will not yielded a good result for Patent Dealers in Kano.
He said the National Association of NAPPMED has dissolved the former Executive Members of the Association and appointed them to steer the activities of the NAPPMED as acting capacity.
He emphasized that Members will not relocate to Dangwauro Market pending the court decision.
Read Also: Jam'iyyar Matan Arewa: Court Recognises Tasidi Muhammad as Kano Caretaker committee Chair
When Contacted Dahiru Abdullahi Matazu, the Patron of NAPPMED in Kano dismissed assertions by Members of Kano Medicine Dealers.
He said it is illegal to sell drug in open Market noting that the decision to relocate to Dangwauro Market was policy of Federal Govenment to sanitize the bussiness from criminals among the drug dealers.