By Abubakar Abdullahi
The Medium Security Custodial Centre, Kurmawa, Kano, through its Inmates Continuing Education Centre (ICEC) has graduated a total of 38 inmates who sat for the 2023 NECO Senior School Certificate Examination as well as the National Board for Arabic and Islamic Studies examination respectively.
SC Musbahu Lawan K/Nassarawa, Command's Public Relations Official, Kano State Command, made this known in a statement issued.
Read Also: NOUN Strengthens Partnership With NCoS for Improved Academic Packages for Inmates
He said "This is in view of rebranding and repositioning their lives to became productive to the larger society and to make the nation proud after serving their terms, in line with the Correctional Service Act 2019."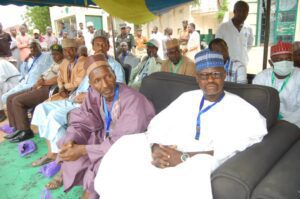 Speaking at the graduation ceremony held inside the facility, the Controller of Corrections Kano state command, Suleiman M. Inuwa appreciated the Controller General of Corrections for providing the enabling environment necessary for imparting knowledge in the inmates of Custodial Centers and preparing them for a better future. The Controller said that the Nigerian Correctional Service of today is quite different from the Nigerian Prisons Service of Yesterday.
Read Also: National Public Relations Officer NCoS, ACC Umar Loses Father
"This is because of the opportunity given to the inmates to pursue education. I hereby call on the graduands to leverage on this opportunity given them to transform themselves into better citizens. I also charged them to build on the acquired knowledge and further your education up to university level which is also possible in this custodial centre," the Controller said.
In a speech, the Commissioner for Education Kano state, Haruna Doguwa, appreciated the state government for its support and pledged commitment to ensure it supports and payment the examination fees to the Inmates. He also appreciate the service to enhance the effective reformation of offenders.
Read Also: Decongestion: Kano Acting CJ Visits Kurmawa, Goron Dutse Correctional Centres
The DCC in charge Muazu Tukur thanks the Service and the State Government, relevant NGOs, individual donors, and called the beneficiaries to utilize the opportunity in a positive way.