A renowned  Nigerian Islamic scholar and politician,  Sheikh Ibrahim Khalil has advised the youth across the country to imbibe the spirit of patriotism and hard work to secure a better life.
Sheikh Ibrahim Khalil made the called yesterday while speaking at the 2023 annual symposium/lecture series organized by Bayero University Old Campus Youth Assembly to mark this year's Eidl Adha celebration.
Read Also: The Person Found Dead Is Not Our Student – BUK
Shiekh Khalil said, hard work and dedication to whatever you want to achieve are essential ingredients for success, urging the youth to participate in the political process for them to have space in decision making
Speaking earlier, former deputy vice chancellor of Bayero University, professor Abdulrasheed Garba who is the guest speaker at the occasion, said, nothing can be achieve until when societies fully understand the role of youth among them.
He said, according to Youth Charter in 2016 indicated that youth life begins from 15 to 35 years of age, but what we are told youth will not attain level of maturity until they reach 40 years.
Read Also: Abduljabbar: court Supponead Buk Librarian to Produce Text Books on Hadith
Professor Abdulrasheed Garba also lamented on how parents need to adjust on how they mentor their children interns of respect.
Also speaking, secretary to Kano state government Dr Abdullahi Baffa Bichi commended the youth assembly for organizing the event, promising to assist and support the association to achieve it's objectives.
Read Also: Matriarch of Majia Family Dies at 104 in Kano
Also vice chancellor of the University professor Sagir Abbas represented by Dr Kabir Abbas, chief librarian, assured the association of the University's support and encouragement.
During the program, Election was held to elect leaders that will stair the affairs of the association for the next two years.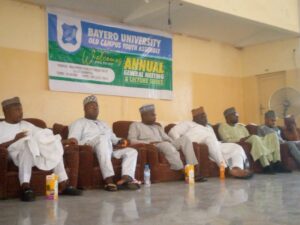 Those elected are: Abdulganiyyu Muhammad as chairman, Ali Abubakar Balarabe as vice chairman, Mustapha Muhammad Yahaya Bichi as financial secretary, Engineer Muhammad Attahir Secretary General, Amiru Abdullahi Bature Treasurer, Abubakar Danjuma Maiwada PRO and Usman Muhammad Minjinyawa as Assistant Secretary of the association.
Other highlights of the occasion was presentation of training certificates to 6 beneficiaries on different skills acquisition programs with start up capital.