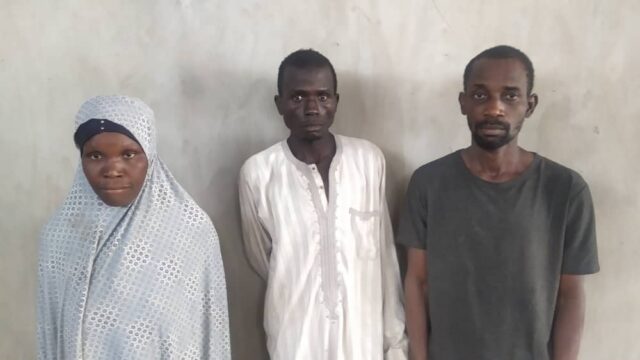 The Prosecution Counsel on Wednesday has presented a Biological mother of Hanifa Abubakar, Murjanatu Suleiman, as seven prosecution witness (PW7) to prove their case against Abdulmalik Tanko, a prime suspect of Hanifa's killer.
In her testimony conducted in sober reflection, the witness told the court that she was the biological mother of 5-year-old Hanifa, adding that she personally took hanifa and handed her to defendant's school at Noble Kids Comprehensive College.
Read Also: Kano Govt hands over 4 victims of child trafficking to parents
"On Dec. 4,2021 at about 8:00 a.m I took late Hanifa to Sheikh Dahiru Usman Bauchi Islamiyya School and the school closed by 5:30pm everyday"
" our neighbours daughter Maimuna Abubakar after closing from islamiyya school ran to our house and informed me that  a tricyclist has gone with Hanifa and we urged her not to follow him but she insisted that he is her uncle".
The witness further told the court that on Jan.2, 2022 she received a call from Abdulmalik with strange voice,  disguised as Fulani man,  informed me  that the victim was with them and demanded for N6 million ransom.
"After 28 days of Hanifa's abduction I saw a black leather in front of my house containing her cardigan, school badge and her printed black and white picture,"
Read Also: Hanifa: Court upholds principal defendant's confession
The witness further told the court that she went to Anti kidnapped unit of police command where the defendants where arrested and requested to know why he committed such henious act against her only child.
She stated that Abdulmalik told her he committed the offence alone due to bankruptcy that he wanted to settle his financial problem.
Justice Watch News observed that the mood at court room was sombre as lawyers, journalists and many people including men and women from the  gallery profusely shedding tears at a certain points when the Hanifa's mother testifying on what transpired between herself and Abdulmalik tanko.
Read Also: Hanifa: Prosecution Opens Case Against Tanko, Two Others
Justice Watch News learnt that the prosecution counsel, Deputy Director Public Prosecution (DDPP) Kano State, Barrister Rabi Shehu Ahmad, has through the witness tendered 17 Abdulmalik text messages to Hanifa's mother as exhibit.
The defence counsel, Barrister. M L Usman, told the court that he was not ready for cross-examination and asked for an adjournment to enable them prepare.
" we need to be served with all the documents in the ongoing trial to enable us to study them to adequately prepare for the  offences against the Defendants are capital in nature"
Justice Usman  Na'abba ordered the prosecution to serve the defense with all the facilities as prayed by ML Usman.
The court adjourned the case to April 12 and 14  for cross-examination and continuation of hearing.