The Chairman, Nigerian Bar Association, NBA Kano Branch, Barrister Aminu Sani Gadanya has said that from next year, members of the Association will start paying their Annual Bar Practicing Fee (BPF) through online, on their verified Membership Portal alone, not by means of teller at the Bank anymore.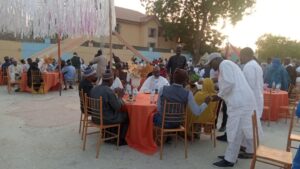 Barrister Gadanya announced this at the End of Year Cocktail Party, organized by the Branch, in honour of its members as part of the activities at the end of out going year, 2021.
Also Read: BREAKING: NBA sets up electoral committee to conduct 2022 elections
He explained that, the online payment of Annual Practicing Fee for all members was introduced by National President of the Association, Mr Olumide Akpata to compliment the digital economy trend globally. He said the new policy of the  payment was resolved at the plenary of National Executive Council Meeting of the Bar.
" It is mandatory upon every lawyer enrolled at the Supreme Court of Nigeria to renew his Practicing Fee Annually" he said.
The Chairman pointed out that the aim of the Cocktail Party was to strengthen relationship among members.
Read Also:We're set for end of year cocktail- Kano NBA Chair
He explained that the Branch under his leadership revived social activities to strengthen relationship among members, noting that social interaction establish unity, friendship and cohesion.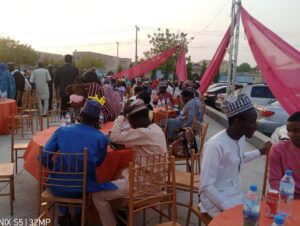 " Last year we honoured our members who were elevated to the rank of SAN,s as part of respect and solidarity which is one the cardinal principle of NBA.
" This is an Annual event to honour our new silk elevated from Kano Bar. This year's cocktail party was organized to appreciate ourselves, since non of our member promoted to the rank of SAN this year," the Chairman said.
Read Also: KNSG Officials, Police seal and raid Nureni Jimoh SAN Chambers – NBA
He called on Members to conduct their practice within the ambit of the law and protect the interest of the profession at all cause",
Barrister Gadanya, maintained that the Association is ready to protect the interest of its members, advising them to abide by the ethics of their profession with decorum, respect and honour.
He commended his Executive Council and entire Members who contributed towards the success of this year's cocktail party.
In his speech, Former Attorney General and Commissioner for Justice, Jigawa State, Sani Hussaini Garun Gabas stated that the event was nothing but coming together and renew friendship.
" The event is significant, we need to remember that as lawyers we're one family. This kind of gathering is important for Lawyers because we're known to socialize"
Justice Watch News learned that, High Court Judges, Khadi's, Magistrates, Sharia Court Judges and Senior Members of the Kano Branch attended the event.
They include Justice Rabiu R Sadik, Justice Maryam Sabo, Justice Abdu Maiwada Abubakar and Justice Sanusi Ado Ma,aji.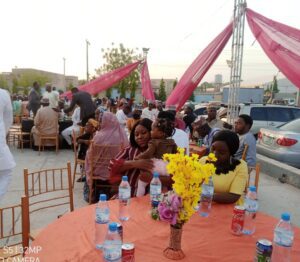 Also attended were Professor Muhammmad Tabi'u, SAN, Professor, A.B Ahmad, Dr Nuhu Musa Idris and Dr. Sani Salihu all from the Faculty of Law, Bayero University, Kano.
Others are Abdullahi Ado Bayero, Chief Register of Kano State High Court, Sheikh Haruna Khalil Chief Register, Shari'ah Court of Appeal Kano and former Chairman of the Branch, current Kano State Commissioner for Commerce, Mines and Industries, Ibrahim Mukthar and former Attorney General and Commissioner for Justice, Maliki Kuliya Umar
The rest include, Chief Magistrate Muntari Garba Dandago, Chairman, Magistrates Association of Nigeria, Kano State Branch, Laminu Bala Chairman NBA, Ungogo Branch, Huwaila Ibrahim Muhammmad, Chairperson, International Federation of Women Lawyers, Kano Branch, Abubakar Muhammmad, Northwest Zonal Coordinator, Legal Aid Council of Nigeria and many other members of the Branch.
Photos Highlight of the Cocktail Party